The future of porcelain veneers is here.
Imagine the most beautiful porcelain veneers hand crafted and expertly fitted to your teeth in just a single day. In an Australian first, Smile Solutions is proud to introduce Same Day Porcelain Veneers™, bespoke, artisan made porcelain veneers by our team of experienced cosmetic dentists and master ceramist working in our on-site ceramic studio.
No uncomfortable temporary veneers for weeks – everything from preparation to insert of your new smile completed in just one day.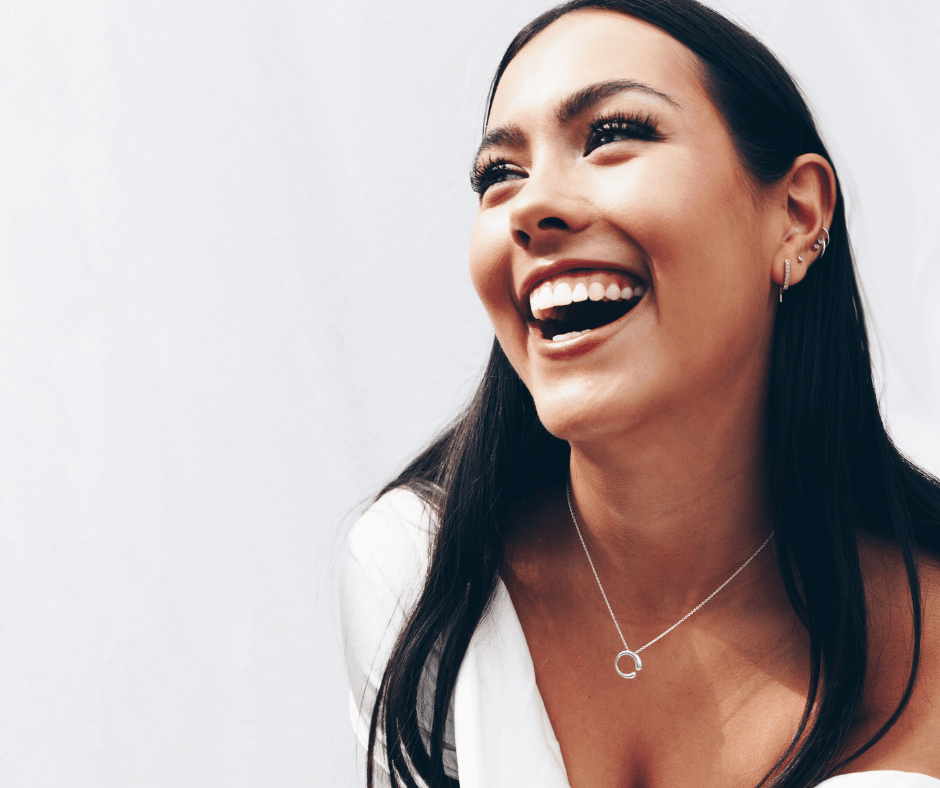 How does it work?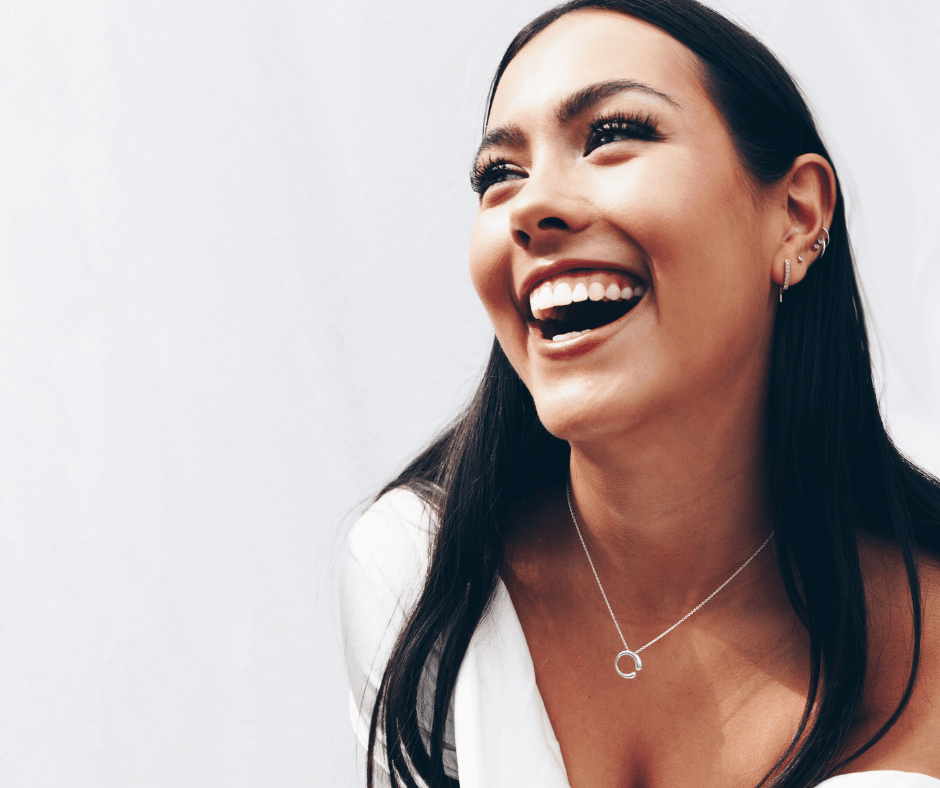 Your first step is a complimentary consultation with one of our experienced cosmetic dentists. If you are a suitable candidate for veneers, you will then have the opportunity to meet and consult with our master ceramist who will craft your porcelain veneers, as well as your treatment coordinator who will be your point of contact throughout your journey.
Should you choose to proceed with treatment, digital scans will be taken and sent off to our in-house ceramic studio.
Your same day veneers appointment will be next!
Step 1
Your day will begin with an early morning appointment, where your cosmetic dentist will prepare your teeth to ready them for your new bespoke veneers.
Step 2
Sit back and relax at a beautiful 5-star hotel, while our master ceramist dedicates time to creating your individually hand crafted porcelain veneers.
Step 3
Once your veneers are ready, return to 'try-in' your new smile. If adjustments are required, they will be made straight away on the spot.
Step 4
Once you're delighted with the result, your new veneers will be carefully inserted that same afternoon by your cosmetic dentist. You will then walk away with your perfect smile, created in just a single day!
What are the benefits of same day veneers at Smile Solutions?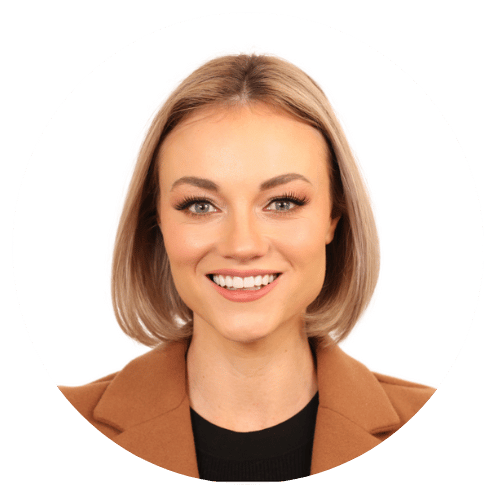 No temporary veneers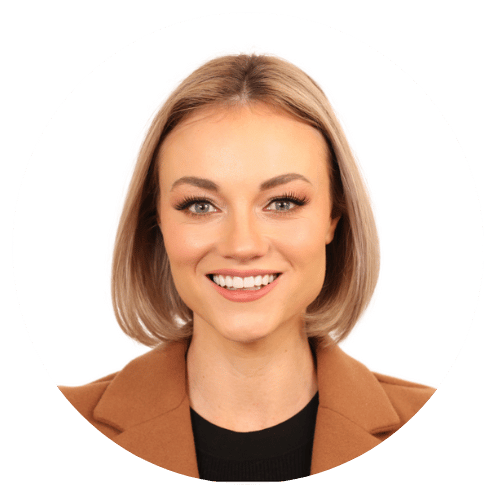 Normally once your teeth are prepared, you will be sent away with temporary plastic veneers until your final veneers are inserted 2-3 weeks later. Temporary veneers are not fully sealed to your teeth, so during this time you are advised to avoid certain foods and drinks, and treat them gently so they don't chip, stain or fall out all together which can lead to increased sensitivity. Temporary veneers can also be difficult to eat with, making them socially unpleasant.
If they do fall out, chip or cause you pain, you will need to go back to your dentist to have them fixed, meaning more travel time wasted and unnecessary discomfort.
With Same Day Porcelain Veneers™ at Smile Solutions, the use of temporary veneers is eliminated. This means less time in the dental chair, only one round mouth numbing, and no time wasted having your temporary veneers made and fitted, and then later removed.
Eliminating temporary veneers also makes Same Day Porcelain Veneers™ ideal for regional, interstate and international patients!
Learn More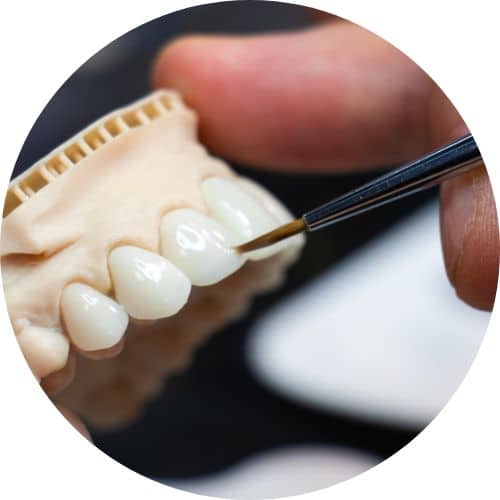 Individually, artisan made porcelain veneers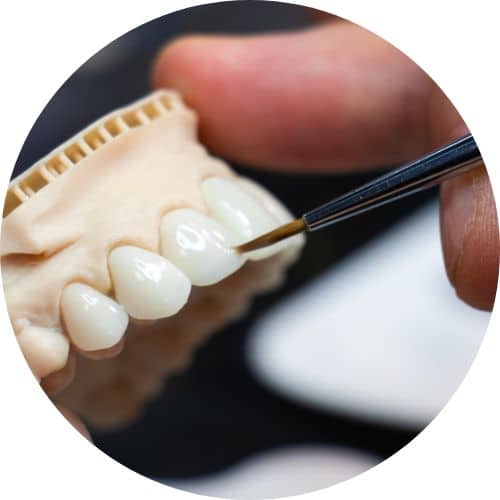 Our in-house, small scale ceramic studio is here only to service our patients. Our Ceramists do not work with any other businesses beyond Smile Solutions, allowing them to dedicate all their time to creating the very best work for our own patients.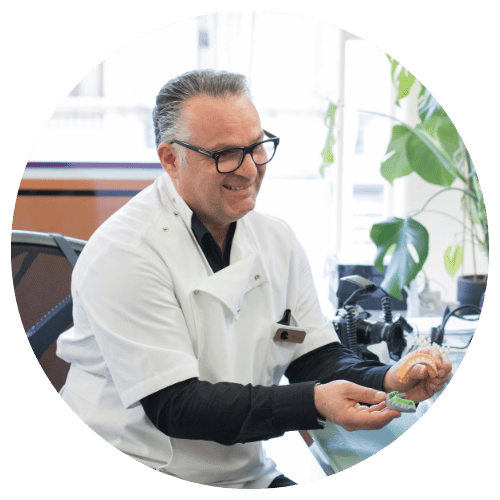 Meet the creator of your new smile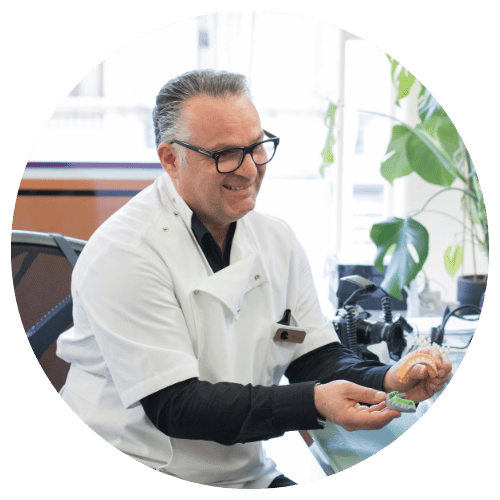 During your initial appointment, and throughout your treatment journey, you will have the opportunity to meet and consult with our master ceramist who will craft your new smile. No faceless person, off-site, or overseas providers, our ceramists work on-site, in their dedicated bespoke ceramic studio, and will work with you each step of the way.
Quick turnaround without compromising quality
We don't offer prefabricated, cookie-cutter smiles. Our superior technology including iTero scanners, 3Shape Trios scanners and fleet of 3D printers allow our work to be compressed to a one-day turn around. Our bespoke, small-scale operation at our in-house ceramic studio gives our team of master ceramists the ability to devote their day specifically to creating your new smile.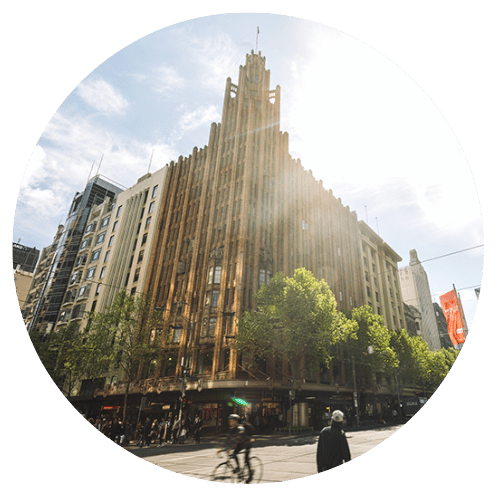 Relax at a 5-star hotel while you wait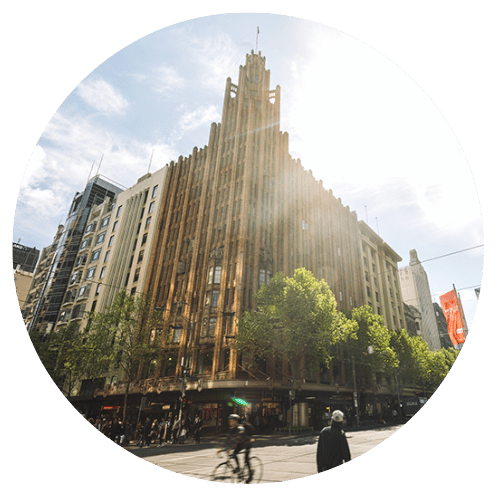 Sit back and relax at a beautiful 5-star Hotel, conveniently located nearby, while you wait for your bespoke smile to be made.
Why Choose Smile Solutions?
The best clinicians, using the best technology, in the best environment
As a practice we have completed over 43,000 veneers and crowns and counting! Your journey will be managed by our very best team of cosmetic dentists, all of whom have access to the most superior technology available, to ensure every patient receives the highest level of treatment and achieves the best results.
You can sit back and relax in our beautiful and emotionally serene practice and spacious dental suites, while you gaze across some of the most spectacular views of Melbourne without a worry in the world.
Interest free payment plans available
Being able to receive dental treatment now is easier with our range of payment plan options.
Smile Solutions offers several interest-free payment plan options for your treatment, including up to 24-month no deposit interest-free payment plans.
Over 30 years of award-winning service
With over 30 years of practice and service to the community, Smile Solutions is proud to be the most awarded dental practice in Australia, receiving countless awards recognising service excellence and customer service.
Technologically advanced practice
Smile Solutions is always pioneering new technologies and processes to provide to our patients. All our clinicians have access to the most superior technology available to ensure every patient receives the highest level of treatment and achieves the best results.
This including Dental Monitoring, iTero scanners, 3Shape Trios digital scanners, Digital Radiographs & CT scans, a fleet of CEREC machines and intraoral scanners, as well as an in-house dental laboratory equipment and bespoke ceramic studio equip with 3D printers.
Crafting a smile as unique as you
Porcelain Veneers & Crowns
Completed Invisalign Cases
Patients at Smile Solutions
Are you ready to book an appointment?


Who will create my new smile?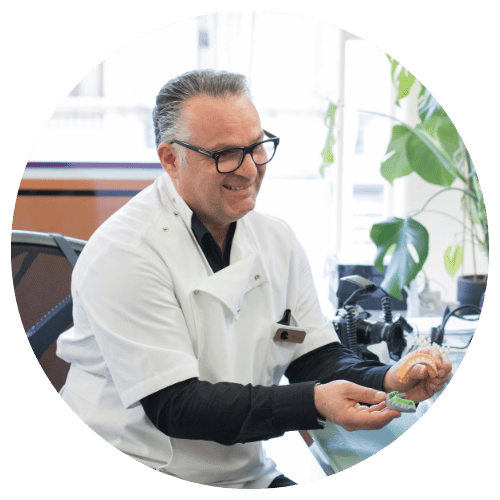 Greg Karabasis
Master Ceramist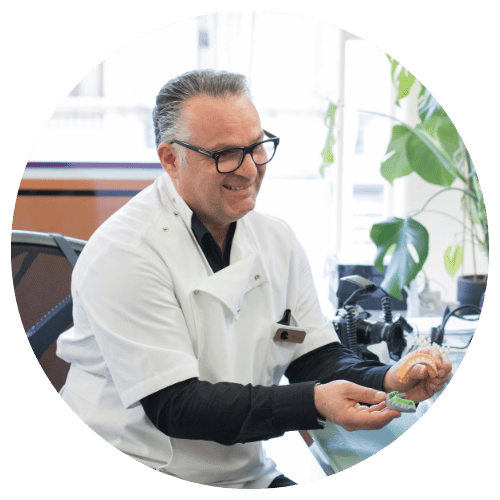 Greg has worked in the dental industry for the past 32 years. He was the founder & Company Director of one of Australia's largest dental laboratories for 28 years. He is a qualified and experienced Master Ceramist, working in the company of some of the most respected dentists in Melbourne, with an extensive knowledge of all facets of dental restorations with a particular interest in cosmetic veneers and digital smile designs.
Greg has completed various courses and gained accreditation with some of the largest dental companies in the world including Noritake, Ivoclar, Straumann, Sirona & Exocad. Greg has presented his work and shared ideas to colleagues in Australia, South Korea and China.
Greg was the former Vice President of The Victorian Crown and Bridge Society and is very passionate about his work and continues to be inspired by new innovative ideas.
Outside of work, Greg was a former Board director of South Melbourne Football Club, has a keen interest in AFL football, golf and motorsport.
Frequently Asked Questions
Veneers are thin shells permanently bonded to the surfaces of teeth to improve their position, shape and shade, as well the overall aesthetics of a person's smile. They are made of either composite resin or high-strength porcelain. Dental veneers are a cosmetic solution to a variety of scenarios, including:
Aged veneers needing replacement
Spaces between teeth
Broken, crooked or badly chipped or worn teeth
Permanently stained or discoloured teeth
Veneers are a very durable option to improve the aesthetics and functionality of your teeth.  The average lifespan of dental veneers ranges from 10 years up to 25 years, though it can be less if decay is allowed to develop. Ceramic veneers are not easily broken but they can chip or fracture if subjected to trauma or other structural overload, just as unrestored teeth can. And just like natural tooth enamel, a veneer can still wear or become damaged if subjected to the destructive forces of a grinding or clenching habit.
Veneers should maintain their appearance indefinitely, although it might be desirable to replace them when, over time, gums have receded and the margins of the veneers have become visible at the gum edge, possibly with accumulated staining.
It's rare for a veneer to become detached, but it can happen if the veneer fails to bond to the tooth due to insufficient dental enamel, suggesting that a crown may have been a more suitable choice in the first place; or, less commonly, due to an error in materials handling or performance.
Porcelain (or ceramic) veneers are fabricated facings bonded to the front surfaces of the teeth. They are highly durable and resistant to staining and chipping. Porcelain veneers are excellent for moderate to major changes in tooth shape and texture and can be made to resemble the look of a natural tooth very closely. This type of veneer is usually manufactured by a technician in a dental laboratory and fitted by your dentist.
Composite resin (or "plastic") veneers can be applied to the front teeth to make small to moderate changes in shape. They are useful to reshape teeth after orthodontic work, to repair small fractures or to close gaps between teeth. The material used is tooth coloured and moderately durable. These veneers can be made and fitted during one visit to your dentist, being manufactured in-house without the involvement of a laboratory.
Your choice may be determined by your preferred treatment process, your short-term budget and your desired outcome.
The treatment process for composite resin veneers is one of direct bonding to your teeth, also known as dental bonding. (This is the same method that's used to place a composite filling.) One of the advantages of composite veneers is that they require only one visit to the dentist. Another benefit is that composite is a cheaper option than porcelain in the shorter term.
However, a disadvantage of composite veneers is they are not as strong as the alternative – being slightly porous, they must be maintained more regularly than porcelain and are rarely permanent. They can also lose their lustre after a while, so they need to be polished; and they can discolour, needing to be replaced. These ongoing treatments add to the cost factor in the longer term.
The advantages of porcelain veneers is that they are more natural looking, are more durable and need less maintenance than composite as they don't change colour or lose their shine. This makes them cost effective in the long term.
On the other hand, porcelain veneers, as mentioned, are manufactured either chair-side or in a laboratory after your initial consultation, and are then placed by your dentist on a second visit.
It's important to understand that the cost of any dental treatment can vary between patients, depending on the complexity of the procedure, and who performs the treatment. No two mouths are the same, and so dentists will not necessarily be able to give you an exact cost until they have thoroughly examined your teeth.
Although veneers might be considered expensive, with porcelain veneers costing more than composite veneers, patients are usually very satisfied with the results and admit that the benefits, such as improved aesthetics and (in the case of porcelain) a stronger material far outweigh the cost. There are a few different costs involved with veneers, from the X-rays to the process of bonding the veneers and the cost of the material itself.
Your dental practitioner will advise you of any special care requirements for your new restorations, as well as any follow-up appointments that may be necessary to check your progress.
Keeping up a good dental hygiene routine, including brushing and flossing, combined with a scale and clean with your dental hygienist is very important. While the porcelain (or composite) that makes up your veneers cannot decay, the underlying teeth still can, and the teeth are vulnerable wherever they are exposed (at the back and sometimes the sides) and also where they connect with the veneers themselves. One of the benefits of dental veneers is they can protect the underlying teeth against decay. Providing you brush your teeth with fluoride toothpaste twice a day and use fluoride mouthwash regularly, dental veneers have been shown to resist decay.
Terms and Conditions
The price of porcelain veneers through the same day veneer program is the same as having them treated conventionally across multiple visits.
Our treating clinicians will determine if veneers in a day treatment is suitable, based on the patient's previous history, presenting dental condition, and outcome expectations. In certain cases, the clinician may recommend patient's veneers be completed conventionally across multiple visits, which they will discuss during the appointment.
If the patient is required to return to the practice the following day, Smile Solutions will pay for the patient to stay the night at the hotel.