The Charities Smile Solutions is proud to support include the Magpie Nest Housing Project, the Ovarian Cancer Research Foundation, Clown Doctors, SIDS and Kids, Bellevue Philanthropy and the National Breast Cancer Foundation.
Magpie Nest Housing Project
Smile Solutions is a proud supporter of the Magpie Nest Housing Project, a joint initiative of the Collingwood Football Club Foundation and The Salvation Army in partnership with the Victorian Government's Homelessness Innovation Action Plan.
More than 300 homeless people sleeping rough on the streets or in unsafe rooming houses are listed with the Salvation Army as looking for safe accommodation across Melbourne.
The goal of the Magpie Nest Housing Project is to provide those in need with good-quality housing, safe accommodation, reduced rents, wrap-around case management, and links to mental health services, employment and training assistance.
With a firm belief in giving back to the community, Smile Solutions has donated more than $250,000 since 2014.
Ovarian Cancer Research Foundation
Smile Solutions is a proud partner of the Ovarian Cancer Research Foundation (OCRF), having supported the OCRF Silver Ribbon Exposure Gala over the years. Our aim is to help the OCRF to shine the spotlight on ovarian cancer, to advance vital research and to save women's lives.
In Australia, one woman dies every 10 hours from ovarian cancer. The key to changing this statistic and giving women with ovarian cancer a better long-term outlook is early detection.
The OCRF was co-founded in 2000 by eminent gynaecologist Associate Professor Tom Jobling (Chairman) and businesswoman Ms Liz Heliotis (CEO). It is Australia's preeminent body supporting ovarian cancer research. Of all gynaecological cancers, Ovarian cancer is the leading cause of death. It is an insidious disease that often strikes without warning.
At present ovarian cancer is commonly diagnosed at the advanced stage, with only 20% to 30% of women surviving beyond five years, compared with more than 90% when the disease is detected and treated early.
OCRF
Level 1, TOK Corporate Centre
459 Toorak Road, Toorak , Victoria 3142P P: 03 9296 2040
W: www.ocrf.com.au/
Testimonial

"For the past eight years, Kia and Victoria Pajouhesh and the amazing team at Smile Solutions have been an invaluable partner of the OCRF. It is not often in business that you can find partners who can match your enthusiasm, energy and passion. We are so proud of this empowering partnership and so grateful for the unwavering commitment Smile Solutions has demonstrated over the years.

We look forward to working with Smile Solutions for many years to come to continue to raise the profile of ovarian cancer and ensure a better future for women and their families."


Liz Heliotis – CEO
Clown Doctors
Smile Solutions supports the Clown Doctors, an Australian charity dedicated to promoting and delivering the health benefits of humour.
Clown Doctors address the psychosocial needs of children in hospitals in a unique way. By parodying the hospital routine and delivering laughter, Clown Doctors help children better deal with their hospital stay. "Clown Rounds" are conducted through all wards including intensive care and oncology, and most clinics including emergency and burns. Founded in 1996, Clown Doctors reach over 100,000 kids in all major children's hospitals across the country each year.
As a holistic dental practice, Smile Solutions shares Clown Doctors's philosophy that emotional and physical needs must be addressed together to achieve overall wellbeing.
Clown Doctors
Suite 3.5, 126 Greville Street
Chatswood, NSW 2067 P: 02 8978 4500
W: www.clowndoctors.org.au
SIDS and Kids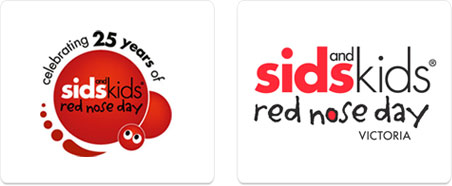 Smile Solutions passionately supports SIDS and Kids Victoria to achieve its research and service goals.
Smile Solutions in support of the 25th Red Nose Day – Helping to Save Babies' Lives
The 25th Red Nose Day was a great success, with the entire month of June 2012, culminating on the 29th, dedicated to fundraising for SIDS and Kids.
Smile Solutions is proud to support Red Nose Day. The team at Smile Solutions is passionate about the work of SIDS and Kids and we have lent a helping hand to support SIDS and Kids Victoria to achieve its research and service goals. In 2012, as part of our support, we donated a valuable live auction item – a day in our MCG Corporate Box – that was auctioned off at the Red Nose Day Cocktail Event on Friday 29 June, at Melbourne Aquarium. We also displayed a red nose in our office windows and assisted the Red Nose Day team with its special event.
SIDS and Kids Victoria is one of Australia's best known not-for-profit organisations, dedicated to saving the lives of babies and children during pregnancy, birth, infancy and childhood. Each year the organisation provides bereavement support to Victorian families who have experienced the sudden and unexpected death of a baby or a young child, regardless of the cause of death.
SIDS and Kids Victoria, through the promotion of Safe Sleeping practices and the delivery of education programs designed to reduce the incidence of child mortality, educates approximately 140,000 parents of approximately 71,000 new babies born each year in Victoria. However, the exact cause of SIDS is unknown.
SIDS and Kids Australia
Suite 1, 98 Morang Road
Hawthorn, Victoria 3122 P: 03 9819 4595
W: www.rednoseday.com.au
Testimonial

"In 2012 Smile Solutions donated a day in their fantastic MCG Corporate Box, which was auctioned at the Red Nose Day 25th Anniversary Cocktail Event at the Melbourne Aquarium and assisted in raising invaluable funds for our cause.

Smile Solutions also featured our red nose signage in their prominent office windows on the corner of Collins and Swanston streets. We are very grateful for their support."


Miranda Bozic – Income Developer Manager
Bellevue Philanthropy
Smile Solutions is a proud supporter of the Bellevue Project. Bellevue Philanthropy was created by two women, Silla and Jody Allat, to raise funds for, and bring awareness to, organisations that they feel an affinity for.
"We are both mothers of four children; PANDA was the first charity on our list. We recognise how tough parenting is and appreciate the vital work that PANDA does within the community. Our aim is to further help PANDA's work by increasing their financial support."
The inaugural Winter Solstice Ladies Luncheon was held in 2011 in support of PANDA and the luncheon is now a much-anticipated annual event.
"As we both live in bayside Melbourne we wanted to support the hospital our children would be sent to in an emergency. The Monash Children's is Victoria's second-largest and Australia's third-largest children's hospital, dedicated to providing quality patient care for the children and families of the south-eastern suburbs of Melbourne and beyond, right across Victoria.
"Our Oaks Day luncheon, in support of Monash Children's, is an annual celebration of feminine elegance and the heritage of Ladies Day, one of the most popular race days of the Melbourne Spring Racing Carnival, without having to go to the races!
"We have joined forces with Amalocal to bring the bayside community a twilight festival of stalls laden with local produce, meats, breads, dips, pestos, sauces, pasta, jams and chutneys.The Bayside Local Food Festival will be a wonderful opportunity to meet local farmers, producers and bakers and purchase fantastic fresh produce. The Festival will also raise funds for FareShare to help it continue to produce meals for those who struggle to feed themselves and to raise awareness of the magnitude of hunger and food insecurity around us."
Bellevue Philanthropy
Post Office Box 644
Black Rock, Victoria 3193 P: Silla Moller 0400 974 401
Jody Allatt 0411 707 630
E: hello@bellevueproject.com.au
W: www.bellevueproject.com.au/
Testimonial

"We are overwhelmed by Smile Solutions' support of Oaks Day 2012 for Monash Children's. Not only have you generously donated the major prize for our live auction – the use of your Corporate Suite at the MCG for an AFL game – the offer of our corporate bags chock full of goodies for our guests is a wonderful addition to the event.

Smile Solutions' support will assist Monash Children's to purchase urgently needed equipment, improve their services and fund their vital medical research and care.

It is incredibly refreshing to receive such generous support. We look forward to a long-term relationship with Smile Solutions."


Jody Allat – Bellevue Philanthropy Director
National Breast Cancer Foundation
Smile Solutions is proud to support the National Breast Cancer Foundation's annual Pink Ribbon Breakfast initiative in Melbourne.
The National Breast Cancer Foundation (NBCF) is the leading community-funded organisation in Australia raising money for research into the prevention and cure of breast cancer.
"We are privileged to work with the public, who both give and raise funds, and the research community to whom we grant funds to change the health future.
"Since the Foundation was established in 1994, $81 million has been awarded to fund over 300 Australian-based research projects across every state and territory to improve the health and wellbeing of those affected by breast cancer.
"We are very proud that the Foundation raises and grants funds exclusively for research, because we believe research is the most effective way to end breast cancer. We are also very proud of the fact that the Foundation has a commitment to funding research right across the spectrum – from understanding the fundamental basis of the disease to psychosocial research aimed at improving the quality of life for survivors.
"Our aspirational goal is to achieve zero deaths from breast cancer by 2030. With 37 Australians diagnosed with breast cancer each day and seven others dying from it there is still much to do."
National Breast Cancer Foundation
Level 9, 50 Pitt Street
Sydney, NSW 2000 P: 1300 708 763
E: info@nbcf.org.au
W: www.nbcf.org.au/
Testimonial

"I would like to express our enormous gratitude to Smile Solutions for donating their Corporate Box at the MCG for our live auction prize at our annual Melbourne Pink Ribbon Breakfast. It is an extraordinary prize and will help to raise invaluable funds for our cause. Also, we appreciate Smile Solutions offering to display our logo in their windows at the Manchester Unity Building."


Irene Ryder – Regional Development Executive