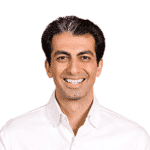 Dr Kia Pajouhesh
General Dental Care
BSc, BDSc (Melb)
5 June 2014
As a dental practitioner, I was nothing less than horrified and disappointed to read the article by Sam Landsberger published in the Herald Sun on 26 May 2014. The ...
[Read More]
5 June 2014
Christina Melas
Dental Therapy & Treatment Coordinator
Dip.OHT (Melb)
30 May 2014
For active people of any age there are a number of situations in which a tooth can be knocked out, including the most common of all – playing sport. Fortunately a tooth ...
[Read More]
30 May 2014
Dr Peter Henderson
General Dental Care
BDSc (Melb), LDS (Vic)
29 April 2014
The cost of porcelain veneers in Melbourne varies according to individual cases and particular circumstances. Here's a guide to how this treatment is approached and costed ...
[Read More]
29 April 2014