13 October 2018
Straight teeth without braces
Traditionally, orthodontic treatment was only for children and young adults. It typically involved unattractive silver metal brackets and wires. Today, more and more adults want straight teeth but don't want the self-consciousness that often comes with traditional orthodontic treatment.
What options exist today for adults who don't want braces?
Fortunately, orthodontic treatment has progressed, so many adults can achieve their goal of a beautiful smile without the need for intrusive metal braces. Invisalign is the simplest and most aesthetic way to achieve a great smile. With over two million users worldwide, Invisalign is a treatment method that can give you the smile you always wanted.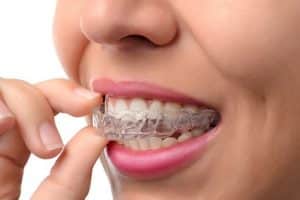 Invisalign treatment involves a series of clear, plastic removable aligners. Patients wear a new aligner every two weeks. Each aligner moves the teeth a small amount until they have straightened to the final position prescribed by your orthodontist. Each patient's smile is individually designed by their orthodontist using 3D virtual tooth movement software, allowing patients to see before they begin treatment how their smile should look at the end of treatment.
Unlike traditional and lingual orthodontic treatment, Invisalign aligners are removable, so comfort is higher. The aligners are worn all the time except when the patient is eating. In most cases, attachments – or tooth coloured "bumps" – bond the smooth aligners to the teeth to create mechanical "purchase" points, permitting advanced tooth movements.
Invisalign is suitable to treat both adults and adolescents. For adolescents, Invisalign Teen is recommended. Invisalign Teen uses the same aligners as Invisalign but allows for the dynamic nature of the adolescent dentition, permitting extra aligners to be made to allow for tooth loss and eruption. Also, aligners may be replaced at no extra cost should a patient lose an aligner.
What can I expect to pay for Invisalign?
No two mouths are the same; so the cost of fitting Invisalign will vary from person to person, as well as from practice to practice.
However, at Smile Solutions, Blue Diamond providers of Invisalign, you will benefit from the vast experience of our specialist orthodontists and our competitive pricing.
As a rough guide, you can expect to pay the following for each form of Invisalign treatment:
Invisalign Full – approximately $7,800
Invisalign i7 – approximately $3,000
Invisalign Lite – approximately $5,200
Invisalign Teen – approximately $8,500
Almost all orthodontic problems can be resolved with Invisalign but you are advised to consult with one of our experienced orthodontists to determine whether Invisalign is the correct treatment option for you.
What other options are available for straight teeth without braces?
Lingual braces or invisible braces are cemented behind the teeth and are completely invisible. Unlike traditional treatment, the brackets are custom designed for each tooth of each patient, facilitating precise and accurate tooth movements. All the wires are pre-bent by computer controlled robots, allowing each patient to achieve the best smile possible. Treatment time is as fast and sometimes faster than traditional braces due to the improved accuracy of the brackets and wires. Treatment is more complicated than traditional braces and should only be performed by a skilled orthodontist with advanced training in lingual orthodontics.
Compared to Invisalign, invisible braces are more aesthetic as there is nothing externally on the teeth. They are less comfortable than Invisalign due to their position on the inside of the teeth. Lingual braces unlike Invisalign are cemented on the inside of the teeth and do not rely on patient compliance. For successful Invisalign treatment, a high level of patient compliance to wear the aligners is required. When deciding which treatment type is ideal, an orthodontist must consider the age of the patient, the severity of the malocclusion, patient compliance and patient expectations. Both Invisalign and invisible braces can successfully treat the majority of malocclusions.
With the various treatments available, there is no longer any reason to put up with crooked teeth and unattractive smiles.