1 July 2013
She looked around the room, nervous. The sun shining through the large windows relaxed her physically and mentally, but she wondered… What would her new dentist be like, what would he make of the state of her teeth, and what would he recommend?
He sat at a computer finishing his notes from his last appointment. Then his eyes moved to the next name on his list. It was Angela Anderson – a new patient. He was always glad to see someone new.
Angela glanced down at her magazine, taking in only the pictures. As she flicked absentmindedly through the pages, she realised she was nervous.
The waiting room was impressive, with lots of light and space. Her friends had raved about the retro feel to this practice. She had seen what they meant as she walked along the passageway to reception, with its copper-coloured floor and lots of period light fittings. The waiting room had the same art deco feel, with detailed cornices and other art deco features. There were about eight other people waiting. Angela wondered how they felt. She had known her previous dentist for several years, so it was hard to imagine trusting someone completely new.
A voice interrupted her thoughts – "Angela Anderson?" – her name was being called by a dental nurse dressed in a smart white uniform. As Angela stood, the nurse introduced herself before showing the way to a beautiful dental suite equipped with very impressive technology.
"Angela, this is Dr Scholz," said the nurse with a lovely smile, and Dr Scholz stretched out his hand. It was the first time a dentist had offered to shake her hand. Not only that; Dr Scholz had a kind face and Angela immediately sensed he felt empathy with the patient – a good start. Then he spoke slowly, clearly and in a caring way. Welcome to gentle dentistry, Angela said to herself.
Dr Scholz invited Angela to sit in the dental chair as they continued to talk – about her overall health, her teeth and her concerns. It was obvious that he was listening with genuine interest to all that she told him.
He examined her teeth and gums and took a few X-rays. Then they looked at the images together on the screen and Dr Scholz pointed out what was pleasing and what needed attention. This was Angela's turn to do the listening as her new dentist explained the recommended treatments and outlined each approach in detail, including alternative actions so that she didn't feel pushed in any particular direction.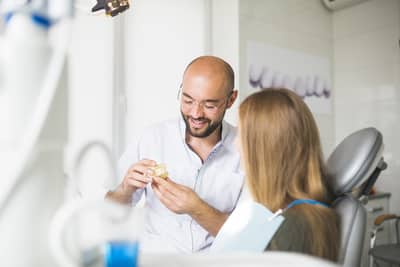 Angela's nervousness had abated because she felt comfortable with Dr Scholz. She suddenly realised she was being invited to make her own decisions about her dental health and treatment – but with the benefit of professional insight and support.
When she returned to the waiting room the receptionist made the appointments she needed and discussed the prices involved and payment plans available. These were kind people who saw her needs from her point of view. What a difference, she thought, between how I felt when I arrived and how I feel now! In fact, what a difference between my dental experiences of the past and my dental experience of now!
*********
A voice said "Angela Anderson" and she looked up to see a dental nurse at the waiting room door. Six months had passed and she was actually looking forward to seeing Dr Scholz again. She trusted him and his team. She had decided that she would always go to Smile Solutions as they seemed genuinely committed to her welfare.