28 August 2018
Why is the Child Dental Benefits Schedule important?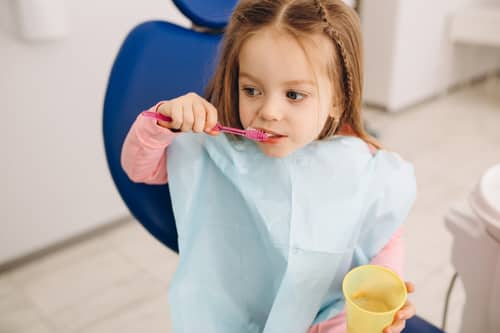 Alarming results from a new national oral health study reveal the presence of untreated tooth decay in a quarter of all Australian children aged 10 and under.
The University of Adelaide National Child Oral Health Survey 2012–2014, the first population-based study of its kind in Australia for 25 years, incorporates data gathered from 24,000 children between the ages of 5 and 14 across the country.
The survey is a collaborative project between the Australian Research Centre for Population Oral Health, based in the University of Adelaide's School of Dentistry, and state and territory dental services.
"This study is one of the biggest and most comprehensive of its kind in the world," says the university's principal researcher, Associate Professor Loc Do, "giving us important and timely insights into the trends occurring in child oral health and behaviours of Australian children and their families."
"We found that tooth decay affected a significant proportion of children. Over 40 per cent of children aged 5 to 10 years had decay in their primary [baby] teeth. One quarter of children in that same age group had never received treatment for their tooth decay. On average, Australian children aged 5 to 10 had 1.5 primary teeth with decay," he says.
"More than one third of children aged 9 to 14 years had decay in their permanent teeth, and one in seven children in this age group had not previously been treated for decay in permanent teeth."
The study revealed that, although the National Oral Health Plan's target was every Australian child to see a dentist, one in nine children had never done so.
Child Dental Benefits Schedule
Under the Australian Government's Child Dental Benefits Schedule(CDBS), more than 3 million children will now be eligible for dental care funded by Medicare.
The CDBS, which took effect on 1 January 2014, provides families with up to $700 worth of basic dental treatment in any two calendar–year period for each child aged 2 to 17 years on any one day of that period.
The CDBS is means tested. To be eligible, the child or their parent or guardian must be eligible for Medicare and receiving either the Family Tax Benefit Part A or any one of the following government benefits:
Youth Allowance
ABSTUDY
Disability Support Pension
Parenting Payment
Special Benefit
Carer Payment
Double Orphan Pension
Veteran's Children Education Scheme, if the child is 16 or over
Military Rehabilitation and Compensation Act Education and Training Scheme (if the child is 16 or over).
The CDBS provides individual benefits for a range of services, including consultations, X-rays, cleaning, fissure sealing, fillings, root canal treatments and extractions.
All of these services and more are available to you and your child at Smile Solutions, where over 45 registered specialists, general dentists and dental hygienists all practise together under the one roof.
At Smile Solutions you can submit your claim electronically immediately after your treatment. Otherwise you can make a claim by calling Medicare on 132 011; or you can download the Medicare claim form and post it to the Department of Human Services, GPO Box 9822 in your capital city, or lodge it in person at your local Medicare Service Centre.
Further information on the Child Dental Benefits Schedule is available on the government's Department of Health website.
Please call us at Smile Solutions on 13 13 96 if you would like to make an appointment for your child and claim your entitlements under this scheme.