'The best people, using the best technology, in the best environment'
About Us
SMILE SOLUTIONS is Australia's largest single-location dental practice, comprising 40 consulting suites across five floors and the tower of Melbourne's iconic Manchester Unity Building. Located in the heart of the city and family owned, Smile Solutions has cared for more than 200,000 patients over the last 25 years. We are a multidisciplinary practice serviced by an experienced team of general practitioners as well as a diverse group of board-registered specialists in the fields of oral & maxillofacial surgery, endodontics, orthodontics, periodontics, prosthodontics, and paediatric dentistry. Our dynamic team of clinicians is enthusiastically supported by management, reception, and nursing staff, 25 of whom have been with our practice for more than 10 years.
CORE DENTAL encompasses seven bespoke practices across the suburbs of Melbourne. Now with over 40 dental suites equipped with the latest technology, Core Dental offers boutique dentistry of the highest quality. Visiting specialists lend extra support and there is a strong mentorship program across the group. Our clinicians are encouraged to perform the full scope of dentistry, including substantial Invisalign and CEREC treatments, and are comprehensively supported through internal CPD education.


Our Philosophy
We pride ourselves on individual, patient-centred care. A testament to this is our practice philosophy, which takes us back to the basics of human relations: striving for excellence in quality of care; overcoming communication barriers; and attempting to view our patients' needs and expectations through their eyes, not our own.
Our portfolio of awards has distinguished our practice as a pioneer and leader in Australia's health care industry. Smile Solutions is extremely proud to have been recognised for multiple award-winning service offerings, most notably being named Victorian Business of the Year in the 2014 Telstra Business Awards.

Extensive Patient Base
Our extensive patient base enjoys consistent growth thanks to our in-house marketing team dedicated to attracting new patients. Owned and operated by a dentist since 1993, Smile Solutions, in conjunction with Core Dental, has built a patient base of over 300,000, with around 20,000 new patients each year. Our orthodontic department brings in more than 3,000 new patients a year, with over one-third of those being new Invisalign starts; this makes us one of the only Blue Diamond Invisalign providers in Australia.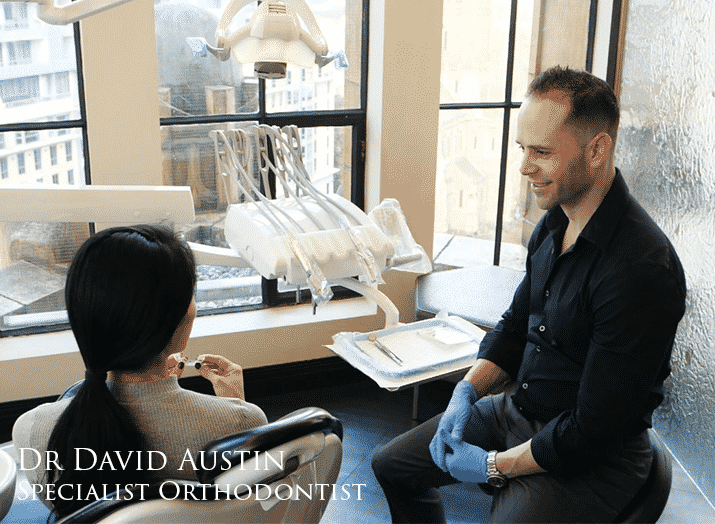 "I started working with Smile Solutions in 2011 and have completed over 2,000 Invisalign cases. This speaks volumes about the consistent supply of new patients at Smile Solutions, which has always been exceptional.
I have always been busy and enjoyed the outstanding facilities that Smile Solutions has provided, both with the latest technology and equipment and most of all with the supportive auxiliary staff.
Another unique aspect of Smile Solutions is working alongside other specialists and general dentists; this helps improve the quality of care that I offer my patients.
I would highly recommend any specialist or dentist to join us at Smile Solutions."
– Dr David Austin, Registered Specialist Orthodontist
The high quality of service we provide, coupled with our size and superior location, means that our practice can command a reasonable fee schedule. Our business has no questionable affiliations with companies contracting others into conducting budget dentistry.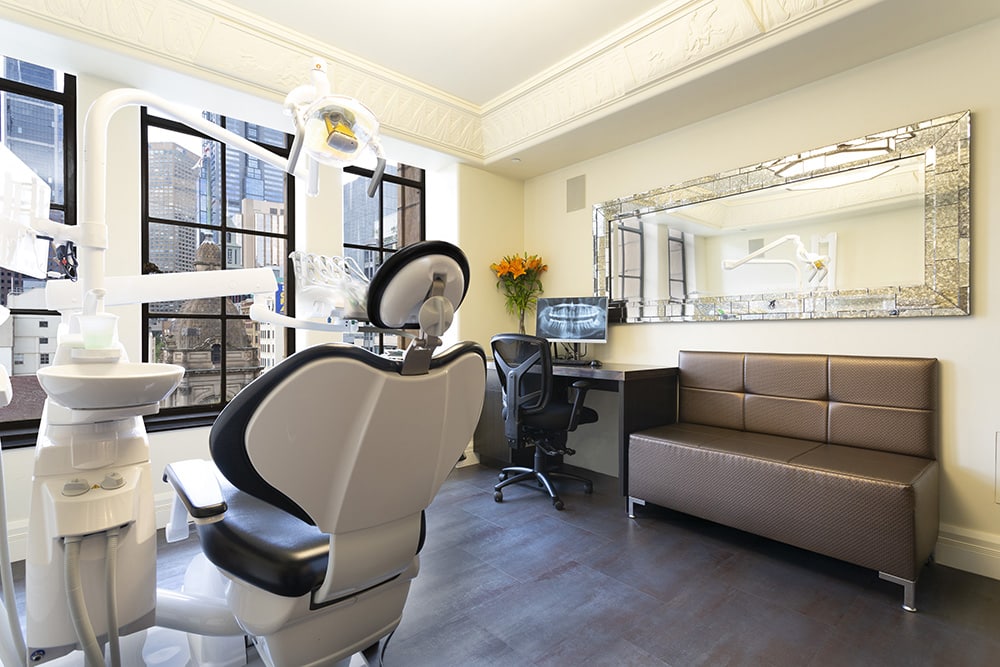 "Smile Solutions is a wonderful clinic to work in. As a 2014 graduate, I find that being surrounded by a large supportive team not only is a pleasure to work with but takes a lot of stress out of my day, ensuring everything runs smoothly. This allows me to really focus on my dentistry and my productivity.
– C.E, General & Cosmetic Dentist at Smile Solutions
Superior Technology
We are a group of clinics genuinely invested in the latest technology. Our commitment to advanced treatment modalities, together with the economies of scale of a business of our size, has enabled us to purchase and maintain the very best technology. We have recently acquired 8 new CEREC units, 12 new dental chairs and more Trios machines and iTero scanners to complement our existing fleet. Further to this, we have adopted multiple implant systems and microscopes, in addition to inhouse extraoral imaging such as CBCT and OPG units.
This significant drawcard attracts the best clinicians to our practice. With access to the most advanced and newest technology available, our dentists are equipped to provide their patients with optimal care. Our state-of-the-art technology also enables them to offer treatment options that may otherwise be overlooked or unavailable.

Exceptional Peer Review
Our multidisciplinary practice allows our clinicians the opportunity to collaborate with their peers, providing the best possible care for patients. We offer seamless mentorship by our experienced clinicians, as well as in-house clinical lectures, courses, and tuitions, and access to peer review and discussion.
In addition, Smile Solutions and Core Dental boast a well-established recent-graduate program for clinicians, including an extensive clinical induction and a tailored ongoing support program. Graduate dentists work with clinical mentors across both general and specialist departments. With some 25 years of welcoming graduate dentists (most of whom are now senior clinicians in our team), we understand how to nurture recent graduates. They are encouraged to work at their own pace with generous, self-directed appointment times, allowing for individual growth and development.
All clinicians have the option of providing the full range of dentistry or alternatively focusing on areas of dentistry that they enjoy. Should they choose to, our dentists can refer patients to either senior dentists or specialists within the practice. This allows for simple transitions for patients and the most comprehensive dental care.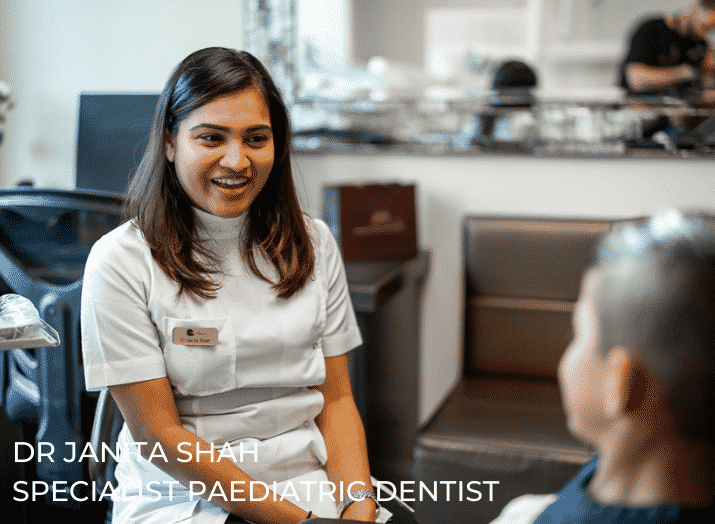 "Smile Solutions provides a unique opportunity to learn and work in a multidisciplinary team with highly experienced general dentists and specialists. This has enabled me to provide high-quality, peer-reviewed, comprehensive care to my patients.
While working at Smile Solutions, I have felt very well supported, and the collaborative environment has helped me grow and share my skills, knowledge, and experiences with others. What I have thoroughly enjoyed are the random coffee catchups with members across the team that have led to knowledge share, patient referrals and even chats about our personal lives."
– Dr Janita Shah, Registered Specialist Paediatric Dentist

THE ROLE
Opportunity
A unique opportunity is available for a full time registered general dentist, or registered specialist on a full time or part time basis. As a successful and experienced clinician, you will be able to use your clinical and interpersonal skills to develop your name within our renowned business. We are offering:
Part-time or full-time hours
Abundant new patients from both internal and external referral sources
The opportunity to create your own patient base and build your income within our structure
Ability to treatment-plan and treat your own patients with the support of an experienced auxiliary team
Work alongside an established hygiene and therapy department as well as our experienced team of treatment coordinators
A wide patient base, from children to adults, and specialist support on challenging cases
Desired Skills & Attributes
Exceptional communication and interpersonal skills as well as a professional and friendly manner
Focus on consultations to determine the best treatment plans
Moderate to advanced level of experience.
AHPRA Registration
Current Victorian Radiation licence
This is an exciting opportunity to create your own patient base and build your income without the usual stresses that come with owning your own business. In return for your hard work, we will provide a supportive team environment and limitless opportunity to develop your career.
If you would like to apply, or to discuss the opportunities available, please email your confidential enquiry along with your CV and cover letter to amy.turner@smilesolutions.com.au