10 March 2015
Clinton Young had his front teeth fixed at Smile Solutions after damaging them during the NAB Cup in 2014.
Clinton's Smile originally appeared on 13 August 2014 as an episode of 'The Club' on Collingwood TV. It is available to view on the Collingwood Football Club website.
Transcript:
Clinton Young: We're here at Smile Solutions today. This is my last visit. I had my tooth knocked out down Geelong during the NAB Cup. I've had several visits here and this is my last visit, so I'm looking forward to it.
It was an incident during play where I got an elbow from Steve Johnson. I was wearing a mouthguard and once I took my mouthguard out, my tooth fell out with it.
I knew that obviously I had some teeth damage so I went straight to the bench. And the doctors tried to do the best they could to put it back in.
Hoping to get the all clear. I've had a frustrating couple of months. And obviously coming here, it's my last visit and hopefully I can move on.
I had to eat soft food for quite some time, couldn't eat my regular diet. Managed through that I had some soups and a lot of rice throughout that time.
I'm glad. My teeth are feeling a lot better now and I can chew harder foods.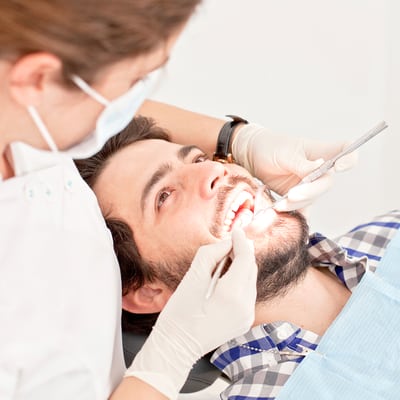 Dr Patrishia Bordbar, Smile Solutions Oral and Maxillofacial Surgeon: Clinton sustained an injury during one of the football matches in February this year (2014) whereby his front tooth was completely knocked out and the tooth next to it was also moved out of place. He was, fortunately, appropriately managed. The tooth was washed with salty water, saline, and replanted within five minutes, which obviously gives it the best possible survival outcome.
He was then seen by the team of specialists here at Smile Solutions and the tooth was splinted, and the other tooth was moved into place. He then had a root canal treatment of his tooth. And we've recently seen him and I'm happy to say that both teeth have survived and they'll have a good long-term prognosis.
A 3D scan of Clinton's mouth allows us to see the injury he sustained to his tooth as well as the surrounding structures.
Most importantly, if you or a family member sustains facial trauma ensure that you're referred to an expert in managing the facial trauma, such as an oral maxillofacial surgeon. Here at Smile Solutions we work with a multidisciplinary team so that other dental injuries can be managed along with the facial fractures.