1 March 2018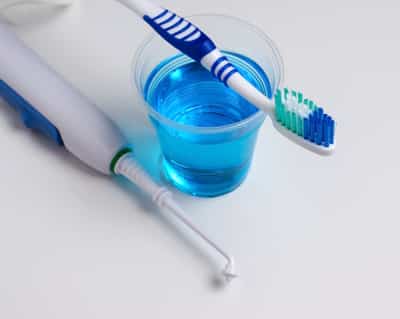 We often see advertising spruking the various benefits of mouthwash, including reduction of gum disease and tooth decay, as well as the creation of fresh breath. But is a mouthwash actually required as part of your daily oral hygiene regime?
Generally, the answer is no. The use of mouthwash during your oral hygiene regime is not essential for most people as the removal of plaque and bacteria requires mechanical action such as brushing and flossing. Mouthwash cannot replace these activities.
Some mouthwashes contain high percentages of alcohol, which can dry out the mouth, creating a new problem and even being linked to some instances of oral cancer. Research has shown that, while mouthwash can kill harmful bacteria in the mouth, it also kills all the good bacteria that the mouth requires on a day-to-day basis.
Prolonged use of mouthwashes containing an ingredient called chlorhexidine can also cause staining on the teeth, as well as altered taste sensation. This mouthwash may be prescribed to you by your dental practitioner or your oral hygienist to assist in healing of the gums, but it is to be used short term only and as directed by your practitioner.
If fresh breath is what you are after and brushing and flossing don't cut it, contact your oral health care practitioner to arrange an appointment. Bad breath can denote an underlying condition such as gum disease or tooth decay.
As a general rule, as long as you are brushing twice daily and flossing your teeth once a day, a mouthwash is not required. However, if you cannot imagine your daily oral hygiene regime without mouthwash, always opt for an alcohol-free version.
As well as brushing and flossing your teeth, don't forget to have regular hygiene appointments every six months with a dental hygienist to keep your teeth as healthy as possible. Call our friendly Smile Solutions team to book your hygiene appointment.