1 December 2018
Should I seek orthodontic treatment from a general dentist or a specialist orthodontist?
As a patient, you want to receive the best orthodontic treatment from the person most skilled to do it. Therefore, if you are thinking about straightening your teeth you should understand the differences between an orthodontist and a general dentist.
General dentists can clean your teeth, carry out fillings and treat other issues related to your teeth and mouth. Think of dentists like your family doctor. They are great at managing general problems related to your teeth, mouth and gums. If you have a more specialised problem (like a heart condition) your family doctor would refer you to a heart specialist. This way you would receive the best treatment from the best person for your condition.
In a similar way, if you needed to straighten your teeth or have a bite problem corrected, your dentist should refer you to an orthodontist for an assessment. Be aware that general dentists who offer orthodontic treatment do not have the additional training, knowledge and experience to manage orthodontic problems that a specialist orthodontist has.
Orthodontics is an area of dentistry that specialises in straightening teeth and correcting bite problems. In Australia, orthodontists hold a degree in dentistry, a masters degree in orthodontics and must be registered as a specialist orthodontist by the Australian Health and Practitioner Regulation Agency (AHPRA). Always check the Australian Health Practitioner Regulation Agency (AHPRA) website to check the registration of a specialist.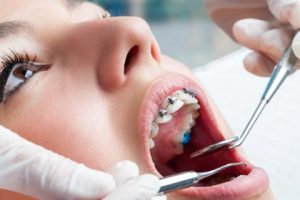 Orthodontists:
have already qualified as a dentist
have completed a further three years of university training in orthodontics
can straighten teeth and correct bite problems and imbalances in jaw growth
work closely with general dentists and other specialists such as oral surgeons, gum specialists and cosmetic dentists to achieve the best results
are experts in treating orthodontic problems in kids, teens and adults alike.
You should see a general dentist for your regular check-ups. If you are interested in straightening your teeth or correcting your bite you can ask your general dentist to refer you for specialist orthodontic treatment. Your general dentist may also advise you to see an orthodontist if they are concerned about your teeth and bite.
This follows good clinical practice as the Australian Society of Orthodontists recommends that patients only see a specialist orthodontist for orthodontic treatment.
What does orthodontics involve?
Orthodontics involves a thorough oral examination and the taking of records such as impressions, photos and X-rays. An orthodontic treatment plan can then be proposed which details options, duration, frequency, risks, benefits and costs.
Common options include braces, sequential clear aligners (e.g. Invisalign® or Invisalign Teen®), arch expanders, removable plates and headgear. Another option that is sometimes considered for crowding is the extraction of some teeth to provide space for alignment.
Braces offer a high degree of control and accuracy in moving teeth and are also available in a ceramic form to minimise the amount of visible metal. Full orthodontic treatment generally requires wearing braces for two years, with adjustments every four to eight weeks.
Sequential aligners are clear and less visible than braces and may be a suitable alternative in some patients. Many of the other appliances used in orthodontic treatment are suitable for growing children and can optimally influence jaw growth.
After completion of treatment, discreet retainers are worn to keep the teeth in their final position. Patients can usually be weaned off using them, but in some cases they are worn permanently.
Making an orthodontic appointment
If you do not have a regular general dentist to refer you to an orthodontist don't worry. You can contact any specialist orthodontic practice for an assessment without a referral. The orthodontist will advise you to have a check-up with a general dentist before starting orthodontic treatment. This way both the general dentist and the orthodontist will work together to provide you with best clinical care.
If you do start orthodontic treatment, you should continue to see your general dentist for check-ups and cleaning. This will help to keep your teeth healthy during the orthodontic treatment.
For a free consultation with one of our registered specialist orthodontists, please call Smile Solutions on 13 13 96.
Remember that all orthodontists are dentists but not all dentists are orthodontists.