22 February 2018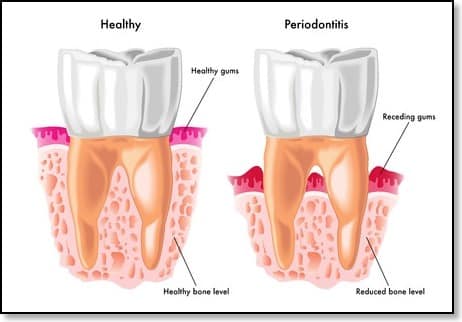 In recent years medical researchers have identified a relationship between poor oral hygiene and many health conditions. Some of the more significant health conditions that have been associated with poor dental health are cardiovascular disease, diabetes, respiratory conditions, dementia and obesity. The greatest depth of research has been conducted into the relationship between periodontal disease (gum disease) and diabetes. Other areas require more research in order to identify causative links.
Gum disease is an infection of the gums. It occurs when bacteria is left on the teeth for too long, resulting in inflammation of the gums. This inflammation then spreads to the bone supporting the teeth and causes that bone to dissolve. If gum disease is left untreated, teeth can become loose and fall out.
In addition, bacteria left to accumulate on teeth can travel via the bloodstream to other areas in the body, including the heart and brain. The body's immune system will promote the production of immune cells and inflammation in the area in question, in turn affecting the entire body. Bacteria can also enter the airways, affecting the respiratory tract.
Looking after your oral hygiene
Your oral hygienist is there to provide treatment to remove the plaque and calculus that is a reservoir of bacteria. With regular dental hygiene treatment, as well as brushing your teeth twice daily and flossing once daily, gum disease can be prevented or at least controlled and the risk of other health conditions can be lessened. Apart from maintaining a good oral hygiene routine at home, some ways to lower your risk for health problems are to avoid smoking and the overconsumption of alcohol, and to ensure that you are eating a healthy, well-balanced diet, drinking enough water and avoiding foods and drinks with a high sugar content.
Give our friendly Smile Solutions team a call to book your next hygiene appointment.