13 December 2018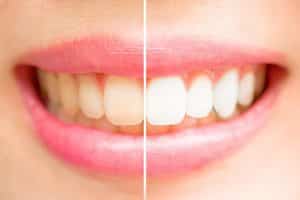 Many people present to their dentist or dental hygienist asking how they can make their teeth whiter. That's because an improved smile is on most patients' priority list when visiting the dentist. And bright, white teeth are a significant part of what makes a smile appealing.
Teeth whitening at the dentist is becoming increasingly common, effective, affordable and, most importantly, safe.
Compared to whitening products that can be purchased off the supermarket shelf or at your local chemist, the products used at the dentist are of a significantly higher strength and potency and are designed to maximise contact with your teeth, in order to achieve a more desirable shade.
Following a thorough check up and clean at Smile Solutions the choice of which whitening approach to be undertaken depends on the causes of your teeth staining (smoking versus antibiotic staining), time-frame for achieving your results, and your budget.
Causes of discolouration
The outermost layer of your teeth is enamel. Most of us start out with thick, sparkling white porcelain-like enamel. With age, enamel becomes worn down and more transparent, allowing the yellow colour of the inner tooth structure, dentine, to show through.
There are two categories of tooth staining:
extrinsic (or external) staining – the most common causes being smoking, heavy consumption of tea/coffee/red wine and poor oral hygiene
intrinsic (or internal) staining – which can result from trauma (such as a fall), excessive fluoride exposure while teeth are developing, or medication (tetracylines can stain a child's teeth if taken by a mother during the second half of pregnancy or by a child up to the age of 8).
Food and drink
Extrinsic tooth staining (staining on the outer surface of the tooth) can be caused by the consumption of highly pigmented foods and drinks such as black and green tea; coffee; and red wine.
To prevent and manage:
Rinse your mouth with water after consumption of the above.
Chew sugar-free gum to stimulate your body's natural saliva flow, which will wash away some of the tannin stains.
Use toothpaste containing small abrasive agents; these can remove some surface staining. Ask your dentist or dental hygienist which brand they would recommend.
Reduce the plaque-forming bacteria in your mouth with daily flossing and twice-daily brushing.
Have your teeth cleaned regularly by a dental professional. We recommend a clean and check-up every six months. At these appointments your dentist or dental hygienist can effectively remove any dental plaque/bacteria, calculus/hardened tartar and surface staining.
If you present with heavy brown/black tooth staining you may need more than the simple polish included in a regular professional clean. We offer a system called a prophyflex, which uses a high-pressure water jet along with calcium carbonate crystals to lift surface staining.
Age
Age alone does not make our teeth yellow. But as we age, the layer of tooth under our enamel (outside layer) begins to show through more with thinning of the enamel. This part of the tooth is less white, and that's why the teeth can appear discoloured.
Also, over time, gum recession may be more prevalent, exposing part of the tooth root, which is also more yellow than tooth enamel.
Neither of these processes can be prevented but they can certainly be managed.
To manage:
Use a soft or extra-soft toothbrush and be careful not to "scrub" the tooth surface when brushing. Harsh scrubbing can hasten thinning of tooth enamel. It's important to brush using a gentle circular motion.
Trauma
Intrinsic staining can result from trauma (such as falls), medication (tetracyline can stain a child's teeth if taken by a mother during the second half of pregnancy or by a child up to 8 years old), or excessive fluoride exposure while teeth are developing.
Teeth whitening works on intrinsic staining, but in cases of discolouration from trauma, additional dental treatment is likely to be required.
Whitening solutions
So, how can you get whiter teeth? Good oral hygiene and six-monthly dental check-ups and cleans are paramount in maintaining whiter teeth. Extrinsic staining can sometimes be removed by a professional clean and polish, whereas intrinsic staining will typically require further treatment.
There are various ways to enhance tooth whiteness, including cosmetic dentistry and chemical whitening processes.
Porcelain veneers
Porcelain veneers are thin porcelain caps cemented over your front teeth to achieve an aesthetically pleasing result. They are white and well-shaped while at the same time being made to blend with the look of your natural teeth.
You might opt to have four, or six, teeth veneered, depending on your desired result. If you would like more information about porcelain veneers, please call our friendly and knowledgeable reception staff or make an appointment with one of our dentists.
Whitening processes
There are many whitening options these days. Here at Smile Solutions we offer you several processes to choose from.
In choosing, we suggest you think about your reason for wanting to whiten your teeth. Do you have a special event coming up soon, for which you would like instant whitening, or do you want to whiten your teeth more gradually?
Our in-chair whitening systems achieve an instant result, whereas the take- home kits are something you work towards over about two weeks.
In-chair whitening
In-chair whitening involves the use of a high strength peroxide, activated by shining a special light, and is completed within two hours. It is ideal for time poor patients or patients with an impending event who require a fast result.
At Smile Solutions, we offer the Zoom Teeth Whitening Solutions which is a 1-hour treatment performed in the chair and provides immediate results. It uses a high strength peroxide which is activated by shining an LED light.
The results of the power bleaching procedures can be enhanced and maintained either in conjunction with at-home whitening, or through annual or bi-annual power bleaching procedures.
At-home whitening
The process of undertaking at-home bleaching begins with your dentist taking upper and lower moulds of your teeth to make custom-fitted bleaching trays, for your teeth.
Once you have received the trays, the procedure is very simple. Either on a daily or nightly basis you will need to wear your trays containing the appropriate whitening gel, as provided by your dentist.
The duration of wear can range from one hour per day while you watch TV or read a book; to overnight while you snooze. This procedure is repeated daily or nightly over a few weeks.
At-home whitening carries numerous positive. Namely, it places the control of whitening in your hands, allowing you to dictate how "white" your teeth become, before moving onto your "maintenance" phase.
It also doubles up later on as your maintenance system, allowing you to touch up the whiteness of your teeth. In addition, it allows our more sensitive patients to tailor their whitening procedure to their comfort.
Keep in mind that if you have fillings in your front teeth these will not change in colour. You can discuss with your dentist or dental hygienist the options available in this case.
After any whitening process it is most important to follow the post-operative recommendations to avoid relapse in colour. If you are a smoker, we urge you to avoid smoking for at least 24 hours. We also recommend that all patients avoid pigmented foods and drinks for at least 24 hours post whitening. Anything that can stain your white clothing can stain your whitened teeth!
What are the risks involved?
Whitening can cause a temporary increase in sensitivity to temperature, pressure and touch. Patients at greatest risk for whitening sensitivity are those with gum recession, significant cracks in their teeth or failing restorations resulting in leakage. Post-whitening sensitivity lasts no longer than a day or two. We also issue a sensitivity relief gel and toothpaste for home use after your treatment.
Gum irritation can occur as a result of contact between your gum and the whitening agent. Such irritation typically lasts up to several days.
Please call our team on 13 13 96 for more information or to book your next appointment.