9 October 2018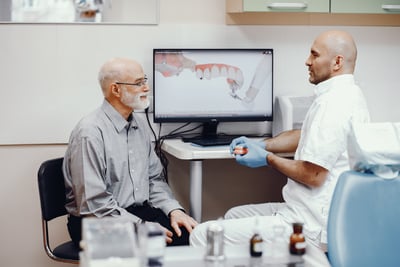 1. Wearing dentures is a learning curve
So, you have received your new set of dentures to replace your missing teeth. Usually, the first set are immediate dentures. This is where missing teeth and existing teeth are replaced by dentures at the time the existing teeth are removed. Shrinkage of the gums and bone will occur in the first three months after surgery, which means first-time dentures have to be refitted or relined at the end of this period. Wearing prosthetic teeth is like learning to ride a bicycle; it takes a while, but once you master the ride it never leaves you. If it's your first time, it may take up to six weeks to learn to use them properly.
If you have worn dentures before, you will likely adapt sooner.
Be careful when you begin to eat with new dentures. Eat softer foods and take small bites until you become more confident with them.
2. They are made of acrylic
Acrylic preforms best in a moist environment, which is fine while your dentures are in your mouth; however, if they leave your mouth for any length of time, they are best to be stored in water. Many patients remove their dentures at night, to rest their gums, and store them in water or a denture cleaning agent such Steradent. Acrylic does not react well to impact forces, so great care should be taken not to drop your dentures on hard surfaces such as tiles and basins, as this may crack the acrylic. Fortunately, these cracks are easily repaired, but doing so will often mean that you'll have to go without the dentures for a day or so while they are being repaired at our laboratory. This may be a good reason to have a spare set made, just in case.
3. They will have to be cleaned daily
Caring for your dentures will have to become part of your daily routine – just like cleaning your natural teeth! It is advised that they are cleaned every morning before putting them back into your mouth and every night before you go to bed.
A handy hint is to to use regular dishwashing liquid, but don't forget to follow this with toothpaste to get a fresh minty taste, not a soapy one!
 Special denture brushes are available for cleaning, as are nightly cleaning agents. Do not place the dentures in boiling water as this may lead to permanent distortion of the acrylic.
Some patients are prone to calculus build on the prosthesis and should have an annual clean and polish of their dentures by the dentist – the same way you would have treated your natural teeth.
4. You still have to see your dentist routinely
Just because you no longer have natural teeth, this doesn't mean you don't need to see your dentist regularly. Your dentist will do an annual review of your gums, lips, tongue and cheeks to make sure they are healthy and cancer-free.
 This is especially important if you are a smoker. Your dentist will also check the denture to make sure there are no cracks or sharp edges developing.
5. Their average lifespan is 5-7 years
The biggest mistake denture-wearers make is to keep the same set of dentures for too long. This is especially pertinent for women, as there is often annual changes of the gums, lips and checks which becomes particularly noticeable after five years with the same denture. This means that the next one will have to be built-up to counteract the ageing process, so it becomes very noticeable when you have a new set the longer the time frame between updates.
As time goes by, the prosthetic teeth do wear down making them blunter. This will affect eating after about 5-7 years.
We recommend that dentures are refitted and relined during this cycle in order to counteract shrinkage of the gums which may cause loosening of their fit.
Please do not hesitate to contact us if you have any questions or would like to book an appointment.