20 January 2015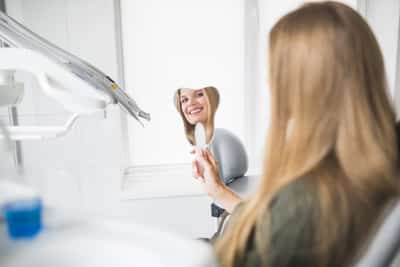 At Smile Solutions, I see many people seeking a "smile makeover" – men, women, people in their 20s up to their 60s and beyond. Their needs cover a wide spectrum. Some start from a moderately pleasing base, while many others come in with snaggly, worn-down or intensely discoloured teeth.
The latter group have often developed a habit of hiding their teeth and never smiling for photos. It's really sad and unnecessary to see Dad the only one not smiling in the wedding photos, for example. I really love helping these people become more confident and I do this by giving them a new smile to display proudly for all (including the camera) to see.
Here I'll give a rundown of the process we typically follow when people come to Smile Solutions requesting a smile makeover.
First, we take some photos of your teeth, and we talk…
What don't you like about your teeth? What do you like and want to keep? How do you feel about their length, particularly the middle front teeth? Do you play a wind instrument, which could be affected by changes to your teeth? Are you regularly photographed at close quarters, or do you appear on TV or video? Do you want whiter teeth? Can you name a public figure whose smile really appeals to you, or do you have photos you can show me as an example of something to aim for? How far around your arch of teeth do we need to go? Will you let me make any modification and reduction of tooth material necessary to achieve your desired outcome?
Answers to questions like these are essential for us to develop a collaborative relationship in achieving the outcome you seek.
Most importantly, I point out what's NOT possible. Some people say they want BIGGER teeth. This is easy to do with ceramic veneers if there's space between the teeth or if the teeth are short and squarish, and could do with some extra length.
However, if the teeth are tight against each other then there's no room for bigger teeth without creating some space first. In such cases we suggest a consultation with one of our specialist orthodontists, who can broaden the arch of the teeth.
This may also require some level of jaw surgery. If a patient with this lack of space declines orthodontic treatment, together we talk about lowering their expectation of the outcome that can be achieved.
At this stage we'll give you a general, indicative understanding of the likely costs of your treatment. A firm costing comes later, after dental examination, record collection, and development of a tailored treatment plan, possibly in association with other members of our dental team involved in the management of your smile makeover.
To give you some idea of costs, the smile makeovers that our patients commonly request encompass bonded ceramic restorations on six teeth from the canine tooth on each side. If no significant dental health improvement is required first, the project cost may range anywhere from $7500 to $12,500.
Dental examination: Is your mouth ready for a makeover? What must be done first, if anything?
First, a general dental examination reveals your level of gum and bone health, cleaning effectiveness, bite pattern, premature tooth wear from grinding and/or clenching habits, soft tissue health, and other oral health aspects which can influence the success of your smile makeover.
For the front teeth specifically, we look at their angle and position in the jaws, soundness of the roots, "nerves" and visible parts, pre-existing defects and dental work, and the outline of your gum over your teeth.
Records for smile design – central front teeth length, initial trial mock-up, study models
If we're looking to increase the length of your front teeth, we may quickly trial some extra length with tooth-coloured filling material. We can simulate a gum lift this way, too. Photos and impressions record the differences between your starting point and the mocked-up changes.
A formal design is then done on dental models. In some cases we may do a trial fit of this design into your mouth.
Finalisation of plan and costs
Once we have considered the input, if need be, of any other practitioners (for example, one of the specialist orthodontic team, or a gum and bone specialist), we will give you a written and fully costed treatment plan and discuss it with you. With your acceptance of the treatment plan, we get going!
Teeth preparation and provisional veneers and crowns
The teeth that are involved in the smile makeover usually need some degree of reshaping to allow for necessary material thickness without creating unnatural and possibly unhealthy contours. After then obtaining an impression or scan of the prepared teeth we make one or more provisional restorations attached to the prepared teeth for the duration of the fabrication period – generally two weeks or so.
These protect the adjusted teeth and, very importantly, give you and me an opportunity to experience and evaluate the smile design we have developed together. Your provisional restorations will look just fine – close to the intended outcome.
Review of provisional restorations
Three days or so after the teeth preparation visit, you and I will review the provisional restorations. Changes may be made to these so that they become a communication tool between us and the dental laboratory technician who performs the actual fabrication. You will have had the opportunity to assess the compatibility of your provisional restorations with your speech and eating, lip comfort and anticipated appearance. All our treatment sequencing is geared towards making your final restorations the smile we planned for – the outcome of our collaboration.
Before committing to construction of the laboratory-made restorations, your choices of colour and whiteness, tooth shape, size and arrangement must be "locked in", as changes in these choices after restorations are made can incur substantial additional laboratory and clinical work with resulting additional costs.
Try-in and finalisation
Generally two weeks after teeth preparation, provisional restorations are removed and we trial-place and evaluate the laboratory-produced restorations.
At this point, the result should be very close to expectation. Only when both you and I are completely satisfied will we powerfully bond the new restorations into place and perform final clean-up and checks before giving you care instructions.
Sometimes very minor adjustments – to the bite, for example – are performed in the week or so following placement.
If you would like to find out more, specifically addressing your wishes, we will be pleased to provide you with a complimentary aesthetic dentistry consultation.
Peter Henderson graduated from the University of Melbourne in 1980 with a Bachelor of Dental Science. With a career-long passion for continuing professional education, Dr Henderson is excited by the opportunities provided by the modern, high-strength dental ceramics and powerful bonding techniques used to restore teeth to natural beauty and function. The interdisciplinary, collegiate environment at Smile Solutions allows him to enhance existing smiles, or rebuild broken-down smiles, to be their best.