15 December 2016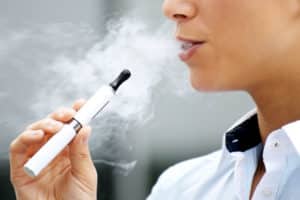 With the rise in popularity of e-cigarettes, many lifetime smokers have seen switching their regular tobacco cigarettes for the "vaping" version as a way to counteract harmful health consequences.
However, a new study has shown that e-cigarettes aren't any better for your oral health than conventional cigarettes.
The University of Rochester (UR) Medical Center study suggests that e-cigarettes are in fact just as damaging to your teeth and gums as regular cigarettes.
Irfan Rahman, Ph.D, professor of Environmental Medicine at the UR School of Medicine and Dentistry, quoted on News Medical Life Sciences, reveals that e-cigarettes trigger damaging responses in the body each time they are consumed.
"We showed that when the vapors from an e-cigarette are burned, it causes cells to release inflammatory proteins, which in turn aggravate stress within cells, resulting in damage that could lead to various oral diseases," says Rahman.
"How much and how often someone is smoking e-cigarettes will determine the extent of damage to the gums and oral cavity."
The study also suggested that flavourings used in e-cigarettes play a part in how damaging the effects are, and the inclusion of nicotine – just one of many harmful chemicals used in the conventional cigarette substitutes – can contribute to the development of gum disease. "We learned that the flavorings – some more than others – made the damage to the cells even worse," says Fawad Javed, a post-doctoral student at Eastman Institute for Oral Health, part of the UR Medical Center, who contributed to the study.
"It's important to remember that e-cigarettes contain nicotine, which is known to contribute to gum disease. More research, including long-term and comparative studies, are needed to better understand the health effects of e-cigarettes," Rahman adds, who has called for manufacturers to disclose all the materials and chemicals used, so consumes can become more educated about the potential dangers of e-cigarettes.