26 July 2021
As a paediatric dental specialist, I have many parents asking why crowns are necessary to restore baby teeth and what types of crowns are available for children.
What is a crown?
A crown is a strong cap or covering used by dentists to repair and reinforce a decayed or broken tooth. The crown restores the tooth to its normal shape, size and function.
Why and when are crowns necessary for baby teeth?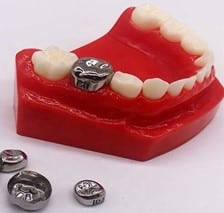 As discussed in Why Baby Teeth are Important, it is absolutely necessary to keep baby teeth healthy until it is time for them to be naturally replaced by their adult successors.
A crown may be recommended if your child develops a large cavity, or when the baby tooth has not developed properly and has broken down. Crowns are preferred over large adhesive fillings as they have been proven to protect the tooth better. They last longer and therefore can prevent dental treatment from being repeated on the same tooth.
What types of crowns are available for children?
Preformed stainless steel crowns and preformed zirconia crowns are the most common material choices for crowns in children.
Preformed stainless steel crowns are the more traditional crowns and have been around since the 1950s. They have the advantage of a long history of clinical use and research, making them highly reliable in terms of strength and durability. They are made up of nickel, chromium and iron and are silver in colour. They are rather well accepted by children who are often excited to get a 'princess crown' or a 'pirate tooth'.
More recently, preformed zirconia crowns have been introduced. They are made of zirconium, a very strong material that closely resembles titanium. They are tooth coloured and are more aesthetically pleasing. They are also a suitable alternative to preformed stainless-steel crowns if your child has a known nickel allergy.


Current research has shown that both materials are equally strong and durable. Both preformed stainless-steel crowns and preformed zirconia crowns are great options to choose from, and we offer both to our patients.
References
Donly KJ, Sasa I, Contreras CI, Mendez MJC. Prospective Randomized Clinical Trial of Primary Molar Crowns: 24-Month Results. Pediatr Dent. 2018 Jul 15;40(4):253-258. PMID: 30345963.
Taran PK, Kaya MS. A Comparison of Periodontal Health in Primary Molars Restored with Prefabricated Stainless Steel and Zirconia Crowns. Pediatr Dent. 2018 Sep 15;40(5):334-339. PMID: 30355428.