19 September 2016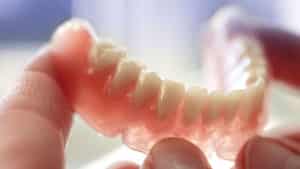 An immediate denture is a complete denture or partial denture inserted on the same day, immediately following the removal of natural teeth.
If you've recently been fitted with immediate dentures, we show you how to care for them in the first few days.
First day and overnight
Leave the dentures(s) in; otherwise you may have trouble re-seating them and this may continue for some days. Continue with any medication prescribed by the surgeon.
Next morning
Remove the denture(s) and rinse your mouth gently. Do not interfere with the blood clots in the tooth sockets.
Rinse the denture(s), and remove all the debris using a denture brush for preference, or soft toothbrush. Carefully replace the dentures without further delay.
Subsequent days
Gradually experiment with firmer food when you are ready.
For the first week, leave the dentures in overnight.
Once swelling has resolved, usually by 7-10 days, you may leave the dentures out overnight. For the long-term, this is healthier for your gums and more hygienic.
Obtain an effervescent denture cleansing powder from the pharmacy or supermarket, and follow the manufacturer's directions. A well-known and trusted product is Steradent.
Keep the dentures moist when they are not in your mouth – for comfort, longevity and hygiene, the acrylic material needs to remain hydrated.
As you heal, the gum shape will change, leading to loss of intimacy of fit of the denture and sometimes speech difficulties. The denture can be relined to accommodate healing changes.
Should you have any questions regarding caring for your immediate dentures please call one of our friendly reception staff on 13 13 96 to make a time to discuss any concerns with your dentist.