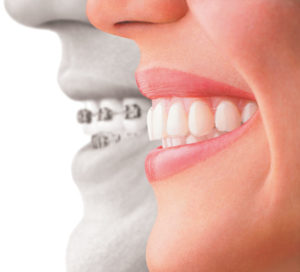 Patient concern about crooked teeth is one I deal with daily. If you have crooked teeth and would like them straightened and your smile improved, you may have already seen your general dentist about it. You may have been given the options of veneers or teeth whitening, after considering alignment of your teeth first. Then you may have been referred to a dental specialist such as a specialist orthodontist like me.
The advice I would give you is that there are many different ways to align your teeth and improve the appearance of your smile. The two most common options are:
braces (external and internal)

removable clear aligners such as Invisalign.
Most people are fully aware of what braces are. Conventional metal braces, which are placed on the outside of the teeth and often called "train tracks" or even "tram tracks", are generally associated with secondary school students or younger children. Working adults may feel more comfortable wearing ceramic or clear braces, which have less of an impact.
Lingual or internal braces exist too. They work in almost the same manner as external braces but are worn on the internal side of the teeth, making them undetectable. Lingual braces are a fully customised appliance, generally made from a special impression or, more commonly nowadays, a 3D digital scan of your teeth. The wires, which are changed regularly, are also fully individualised for each patient. Your orthodontist can treat your crooked teeth with lingual braces.
Teeth can also be straightened with Invisalign. The Invisalign system involves a set of clear removable aligners which are worn full time. These aligners work almost as well as braces. I say almost, because the outcome is dependent on two very important factors. Firstly, the initial design must be precise. This is the stage at which a specialist orthodontist, who has a postgraduate degree in orthodontics and is also highly experienced in Invisalign, makes a fully customised plan for you only. Secondly, your aligners are to be worn for 22 hours per day, only being removed for eating, drinking (apart from cold water), and cleaning your teeth. If both of these criteria are fulfilled then you will see a beautiful result with Invisalign.
I myself had metal braces as an adult, as my family dentist had told me when I was in high school that I did not need braces. As I grew up and studied dentistry, I noticed there were two teeth in particular that I was not happy with, and I decided to have braces as an adult. It took 18 months to correct the misalignment, but I couldn't be happier with the result. And yes, I wear my Invisalign retainers constantly.
Some patients say to me "I would rather have crooked teeth than wear braces." Many of these patients think others may judge them for having braces as an adult, or that braces may affect their job. This couldn't be more untrue. We live in an era when there are many options for changing our appearance. There is nothing wrong with wanting to improve your look. And you will feel so much better once you see the final result. You will no doubt wonder why you didn't have orthodontic treatment earlier.