5 March 2018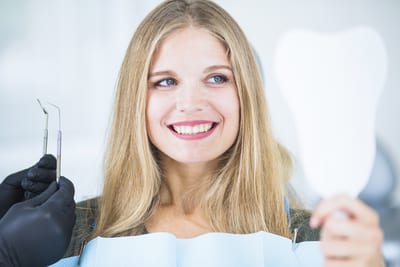 What might a smile makeover involve. The answer is never the same as everyone needs a tailored plan for their particular case. But we always starts with one question: Why do you want a smile makeover?
Many people dislike their smile, and many different reasons are given. It is up to a talented cosmetic dentist to fathom the exact reasons and suggest what can be done to help in the most effective and ethical manner. All avenues need to be investigated before a plan is decided.
This means, first up, a thorough examination to determine what exactly is the issue. The concerns people most often express about a smile makeover relate to color, tooth breakdown/wear, uneven gums or crowding. After the initial examination, a plan of action must be determined. Sometimes the action can be as simple as whitening the smile, or conducting bonded composite resin restorations. Many cosmetic cases involve restoring teeth with porcelain veneers, which cover the visible surface of the tooth. These are created in a laboratory, making them very strong, long lasting and aesthetically pleasing.
Each individual will be different and no two cases will be the same. What is paramount is that the patient and the dentist work towards the same understanding of the plan. If the dentist is pushing for an expensive restoration or suggesting an option that has not been agreed on, then the patient should communicate what they want. Communication in cosmetic dentistry is very important. The details of each individual case need to be clearly laid out and the procedure understood.
In order to ensure the optimal outcome, our preliminary service involves using digital technology to design what your smile will look like. We are then able to give you clear expectations and an understanding of the procedure. The fee for this service is $500 to $650 and is an ideal way to ensure that expectations and results are aligned.
If you have thought of having a smile makeover, give Smile Solutions a call to set up a free consult about designing your new smile.