23 September 2015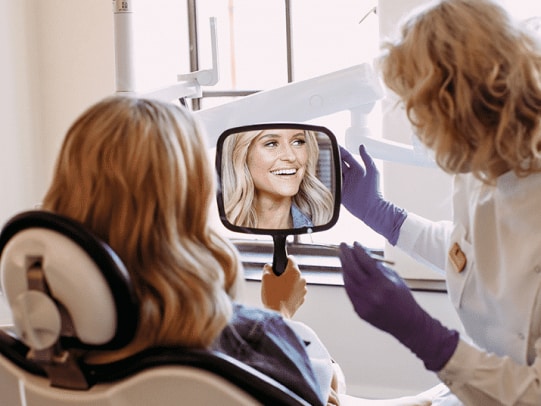 Routine dental check-ups and cleans are essential in safeguarding your dental health and preventing dental disease. However, finding the right dentist for you can be an overwhelming task.
Not only are there hundreds of practices to choose from but the way many individual dentists market themselves these days that can be misleading – claiming to perform everything from implants and cosmetic dentistry to wisdom teeth removal and Invisalign. Any dentist can claim to practise, or even to be an expert, in multiple fields of dentistry, whereas a genuine specialist is registered as such with the Dental Board of Australia.
There are several matters to consider in embarking on your search for the best general dentist or registered specialist in Melbourne.
1. Don't rely solely on search engine results
When looking online for a dentist, or for a specialist such as an oral & maxillofacial surgeon or an orthodontist, you can't rely on the search engine to provide you with an accurate list. All too often the results include general dentists with no specialisation in the relevant field. It's important to do your own due diligence and cross-check whether the listed practitioner is indeed a registered specialist. (See below.)
Beware of dental practices whose websites claim they provide experts in any field, particularly if they do not list the names and specific qualifications of their clinicians. These websites are known as 'call to action' sites: their sole aim is to push the visitor into booking an appointment as quickly as possible. Most of the time they don't have images of their actual practice or the clinicians working there, instead focussing on feel-good imagery; big, bold phone numbers; and plenty of inducement offers.
It's important to look out for words such as 'experience' or 'experts', or dentists claiming to have a 'special interest' in certain fields. These claims can't be checked with any regulatory body within Australia, so they must be taken with a grain of salt.
2. Always check the accreditation of any registered specialists
Registered specialists have completed years of additional university training beyond their bachelor's degree in dentistry.
The only way you can check the specialist registration of a practitioner is on the official website of the Australian Health Practitioner Regulation Agency (AHPRA) or by calling AHPRA on 1300 419 495.
3. Premium services
Dentistry covers a wide spectrum of services, any one of which might be applicable to your situation at any given time, and several of which might be inter-related in your case. For example, you might go to see a general dentist with toothache. The dentist then discovers your tooth is cracked and cannot be saved. With various options available to extract and replace the tooth, this becomes a case for specialist treatment.
At Smile Solutions, we provide access to registered specialist endodontists, prosthodontists, orthodontists, periodontists, oral & maxillofacial surgeons, and paediatric dentists. We do away with the need for patients to spend time, energy and funds in going from one dental clinic to another to receive such treatments. Our multidisciplinary practice, in bringing together under one roof not only a number of general dentists but also the full range of registered specialists, allows our clinicians the opportunity to collaborate with their peers, providing the best possible care for patients.
4. Technology
It's important to look for a practice that is genuinely invested in the latest technology. Not only does a practice with the best technology attract the best clinicians but those clinicians' access to the most advanced and newest technology equips them to provide their patients with optimal care. The practice can also offer treatment options that may otherwise be overlooked or unavailable.
Smile Solutions' commitment to advanced treatment modalities, together with the economies of scale of a practice the size of ours, has enabled us to purchase and maintain the very best technological tools. This means you and your family will be treated by the best people using the best equipment.
5. Comfort
Gone are the days when dental treatment was, for too many of us, synonymous with pain and unpleasantness.
At Smile Solutions we have gone out of our way to welcome our patients to a place of beauty and tranquillity, thanks to our magnificent décor, chilled music and subtle aromas. All of our equipment is chosen not only for its efficiency but also with patient comfort in mind. And then there is the friendly, caring manner of our practitioners. All in all, a visit to Smile Solutions is an experience to be enjoyed.
6. Emergency dentistry
A dentist should offer after-hours emergency dental services to all patients. Smile Solutions' friendly staff can cater for unexpected emergency dental visits at short notice. Our clinicians are skilled at handling all emergency situations such as toothache, chipped or broken teeth, infections, denture repairs, impacted wisdom teeth and more.
7. Blue Diamond Invisalign Provider
If you are considering undergoing Invisalign treatment, you should look for an Invisalign provider that has been accorded Blue Diamond Provider status.
For Invisalign providers to attain Blue Diamond Provider status they must annually treat 150+ cases. This Super Elite status is a very clear indicator of a dental practice's training and expertise in treating patients with Invisalign.
At Smile Solutions we have been awarded Blue Diamond status, endorsing the expertise of our team of experienced orthodontists to perform your orthodontic treatment and help perfect your smile. With these specialists practising in the same location as our general dentists and hygienists, Smile Solutions' orthodontic patients can have their treatment back-to-back with general dental check-ups and cleans, without leaving the building.
8. Always compare apples with apples
Last but not least, cost matters. When comparing prices, it's important to make certain of the registration level of the practitioners performing the relevant service. Specialists may charge higher fees than general dentists, particularly when handling a more complicated case.
Even amongst specialists, experience in their specific field can vary greatly. Particularly in complex cases, a depth of experience can make all the difference to treatment success, and so it often comes at a higher price. Registered specialists, especially those with extensive experience, are best qualified to gauge the complexity of a case and hence quote accordingly. A lesser qualified clinician, especially one with limited experience, may underestimate the complexity of a case and therefore underestimate the cost. This can lead to disappointment for the patient when their expectations are not met. The patient may find eventually that the problem is not fixed (if they went ahead with the cheaper treatment) or that they in fact need to spend a lot more for the appropriate specialist treatment.