27 February 2016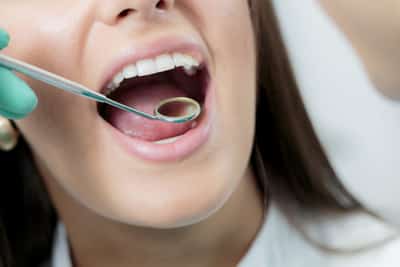 On the search for the perfect smile? With the latest technology in cosmetic dentistry, you can get your pearly whites into the best shape ever.
Dr Kia Pajouhesh, cosmetic and restorative dentist at Smile Solutions is interviewed by Women's Health and Fitness about a variety of popular dental procedures.
At a time when your LinkedIn pic is your first impression and carefree laughter is a hallmark of personal branding selfies, the state of your chompers has never been more important – nor harder to hide. Enter cosmetic dentistry, which can straighten, whiten and even re-size teeth to give you a smile that fills you with confidence.
"Not only does a beautiful smile symbolise health and youthfulness, but it means you smile more often because you are confident with your look – which can only improve your mood and sense of wellbeing," says Dr Kia Pajouhesh from Smile Solutions.
WHITEN
Did you know tooth-whitening procedures have grown 300 per cent in the last five years? There's nothing worse than glow-in-the-dark white chompers, but new systems have been created with natural results in mind. (Generally, your teeth should be no whiter than the whites of your eyes. Use these as a guide!)
You can buy whitening toothpastes and at-home trays, but the most effective solution is an in-chair professional procedure. A dentist applies a bleaching solution to your teeth before using high-intensity light to get the solution to reach inside the enamel layer, eliminating stains without doing damage to your teeth and gums. Prone to super-sensitive teeth? Dr Pajouhesh recommends home whitening. "The process is staged and you can control the frequency of sessions and the strength of the whitening solution."
For an in-chair option, try Smartlight 3LT. Unlike traditional methods, the advanced technology doesn't heat the pulp of the tooth, decreasing the risk of tooth sensitivity. A red alkaline gel is applied to your teeth and is then activated by a green light. These complementary colours create a nonacidic whitening process that works to eliminate mild staining without doing damage to your teeth and gums. Another popular choice is Zoom! Advanced Power Whitening System. A pHbalanced bleaching gel is applied to the tooth surface before being activated for 15 minutes using a UV light. This is then repeated three to five times, depending on your tooth sensitivity, and can make your smile up to eight shades brighter in just an hour.
Bear in mind that peroxide is unable to penetrate crowns, caps and veneers. Your dentist will advise you on the best whitening method for you.
STRAIGHTEN
There's nothing like straight teeth to create a smile that's vibrant, healthy and confident. Got a crowded mouth or slight gaps? You can fix it with internal lingual braces. A far cry from the awkward metal braces we used to wear as teens, internal lingual braces are barely visible and work to permanently straighten teeth over time. As Dr Pajouhesh explains,
"They are just like traditional braces but are positioned on the inner face of your teeth – that is, on the lingual (tongue) side."
Alternatively, there's Invisalign. The treatment involves a series of clear, plastic aligners – not braces – that are positioned and gradually straightened, removed and replaced by your orthodontist every two weeks. The number of aligners you have depends on the amount of straightening required and frequent changing means it's easier to maintain dental hygiene.
"People on a budget often opt for Invisalign as they cost less than internal braces. The aligners can be removed for eating,drinking, flossing and brushing, which many see as a benefit."
Which you choose is usually a question of suitability rather than preference. "Their bite will first need to be professionally assessed and, if certain complexities rule them out for Invisalign treatment, internal lingual braces will be a suitable option," says Dr Pajouhesh. And then there's the matter of aesthetics. "Adults who have been putting off wearing braces tend to go with Invisalign, which are less visible and can be removed."
BRIDGES
Got a gap or tooth that needs replacing? Bridges are growing increasingly popular. The process involves a metal unit of three crowns being fashioned from porcelain. The bridge is cemented to the teeth either side of the gap. These teeth are drilled down to attach the bridge either side of the gap.
The crowns are designed to mimic actual teeth, blending into the rest of your smile so you don't end up with tell-tale blinding bright whiteness! This procedure is best suited to people who are missing multiple teeth in a row and results can last up to 10 years.
VENEERS
A new-and-improved grin is easy with hard-wearing veneers – ultra-thin layers of translucent, tooth-coloured porcelain or compsite resin custom created to be placed over each tooth. They work to close ridges, plus smooth and shape unevenly spaced teeth. Veneers are less damaging than crowns and new developments in the of mean they're unlikely to discolour over the years.
The relatively painless procedure is typically completed in two appointments. After preparing the teeth by grinding or shaving them to acommodate the added thickness of the veneer, an impression of the mouth is taken and used as the basis for crafting bespoke veneers. On the second visit, the veneers are applied to the teeth with an adhesive bond and high-intensity light.
"An experienced cosmetic dentist will design your veneers to suit your gum line, lip line and overall facial features," says Dr Pajouhesh. If you have a small face, steer clear of long, square-shaped veneers. Angular or square-shaped jaws suit teeth with softer edges, while fuller faces could use longer teeth to create a slimming effect. If your face is thin, slightly wider teeth work to broaden your smile. Others claim that having your wisdom teeth removed instantly narrows the jaw and slims the face. Done well and cared for with regular brushing, veneers can last a lifetime.
FILLINGS
Silver-alloy fillings are now a thing of the past. Though there are no proven health problems – and no direct evidence to show that metal amalgam is unsafe – people are turning to less detectable composite fillings to replace the unsightly silver. "The best white fillings are made with porcelain rather than resin," says Dr Pajouhesh, who sites Cerec as a superior option.
Dentists can now blend shades to create a colour that's nearly identical to that of an actual tooth. Like traditional fillings, they work to support the tooth structure and prevent further decay and breakage. They're placed in the tooth in layers, with a light used to harden each. The composite is then shaped and polished to ward away stains.
GUM LIFTS
Are you one of the millions of Australians suffering from a gummy grin? Blame over-zealous brushing, gum disease and even genetics. While most dentists offer gum-lift surgery, modern clinics are turning to laser gum contouring as a solution.
"This is definitely less painful and requires a far shorter recovery period," says Dr Pajouhesh. The procedure can improve the appearance of the teeth by evening out the peaks and valleys of an asymmetrical gum line, scaling back the excess tissue to show more of the natural teeth and less of the gum when smiling. Just one to two millimetres can make a huge difference.
And it's actually quite simple. After numbing the area, your periodontist – gum specialist – will use a special laser to even out and shape the gumline. There's no bleeding, no stitches, and it typically heals in a few days.
This article first appeared in the January 2016 issue of Women's Health & Fitness magazine.