The simple answer to this question is yes, children's dental care is certainly different in many ways from all other forms of dental care – and here is why.
Children are not mini adults.
A child's age, cognitive development and personality type need to be taken into consideration when that child is first being introduced to the dental environment.
Familiarising kids with the dental environment from a young age is crucial to forming their belief about seeing the dentist. It enables us to introduce them to the "wonderful' world of dentistry in a fun and friendly manner when their minds are still open. If kids are comfortable and even excited about their routine dental visit, we can have a preventative focus, aiming to reduce the chance of your child developing a hole in their tooth, or, if a hole does develop, to detect it early on, before pain can start. In Australia, currently half of all healthy children have cavities between their teeth at 6 years of age – and the problem occurs worldwide.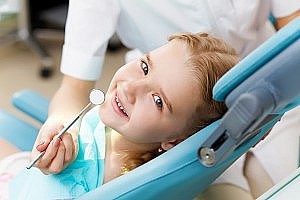 Some people are of the opinion that baby teeth don't matter – they fall out anyway. This is true, but when children develop pain before the tooth is ready to fall out, they become scared. Children today should not have to suffer the pain and burden of dental pain when eating and should not have to go to school with black front teeth.
The other aim of seeing children early is to prevent them from developing orthodontic problems with their teeth. If a toddler has sore baby teeth, they will have to suffer dental pain until their back teeth fall out, which is around ages 9 to 12 years. Also, baby molars play a role in guiding the eruption of adult teeth, so it is best not to lose them too early. When lost early, space for eruption of adult teeth in the upper and/or lower jaw is sacrificed, posing problems in teenage years.
For all of the above reasons, it's important that your child sees a dentist for children – in other words, a practitioner who, with the support of their hygienist, will tailor various procedures – such as teaching a child to clean their own teeth, then teaching them how to cope with a dentist cleaning their teeth – to best suit your child.
In the case of children with complex medical needs or extreme anxiety, or those who have had dental trauma or have dental developmental problems, we refer to one of our paediatric dentists, who are specialists in their field.
Whether for general dentistry or specialist treatments, at Smile Solutions we pride ourselves in exemplary children's dental care.