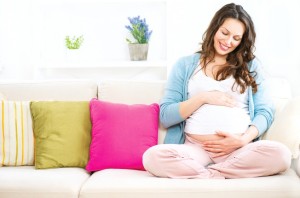 Pregnancy can be a very nervous time for a new mum.
There are plenty of guidelines as to what pregnant women should and shouldn't do, and these can be overwhelming. As far as oral health is concerned, two questions often asked are: "Should I see the dentist while I am pregnant?" and "Is dental surgery safe during pregnancy?"
The answer to both is YES.
A woman's hormone levels rise during pregnancy, which can cause her gums to swell and bleed more than usual. This is one reason why it is very important to see a dentist and hygienist while you are pregnant.
In addition, preventive dental work such as teeth cleaning is essential to avoid oral infections and gum disease – both of which have been linked to preterm birth. And dental surgery such as cavity fillings should be carried out to reduce the chance of infection.
If you require dental treatment other than general checkups and cleans during your pregnancy, the second trimester is the ideal time to have this treatment. The first trimester should be avoided if possible as this is when the foetus is most vulnerable; and the third trimester is normally too uncomfortable for the patient. Elective treatments, such as teeth whitening and other cosmetic procedures, should be postponed until after the birth.
All of the materials used during a dental procedure, including local anaesthesia, are safe to use on a pregnant patient. The Therapeutic Guidelines of Australia advise the use of local anaesthesia with lower levels of adrenalin. Routine X-rays, typically taken during annual exams, can usually be postponed until after the birth.
In a nutshell, we recommend you do the following to maintain your oral health and hygiene while pregnant:
Have preventive exams and cleanings during your pregnancy.
Let your dentist know you are pregnant.
Postpone non-emergency dental work until the second trimester or after delivery if possible.
Elective procedures should be postponed until after the delivery.
The Australian Dental Association recommends that pregnant woman eat a balanced diet, brush their teeth thoroughly with a fluoride toothpaste twice a day, and floss daily.