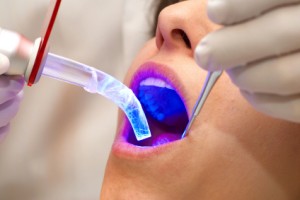 Periodontal disease is a complex disease of the gums that can eventually lead to the unwanted movement of a tooth and potential loss of that tooth if untreated.
At Smile Solutions we include laser dentistry in the wide range of high-tech services we provide. Our periodontal specialists offer laser dental cleaning to some patients who have been diagnosed with periodontal disease. This procedure enables the practitioner to access deep pockets and clean the sites of the causative bacteria.
The procedure itself is completely safe – and indeed has a number of advantages for the patient. These include decreased treatment time, almost complete absence of pain, minimal anaesthetic, and (depending on the procedure) no need for stitches, so healing can happen up to five to six times faster.
The safety of laser cleaning, as with many other dental procedures, is related to the expertise and skill of the treating clinician. Some of the risks of laser dentistry are related to the heat produced by the frequency of the laser beam, the amount of coolant used when the laser is applied to the surface of the tooth, and how long the clinician applies the laser to any one tooth surface.
At Smile Solutions, our clinicians are well aware of the risks associated with laser dental cleaning and are trained and experienced in avoiding them.