Implant Dentistry Demands a Team Approach
Our cohesive team of registered specialists and general dentists can offer you optimal implant care in one location.
At Melbourne's Smile Solutions, our registered oral & maxillofacial surgeons and our specialist periodontists (gum specialists) who specialise in the field of gums and dental bone support, work in conjunction with specialist prosthodontists (working with fixed crowns and bridges) to comprehensively cater for all your dental implant requirements.
Our oral & maxillofacial surgeons:
Our specialist prosthodontists: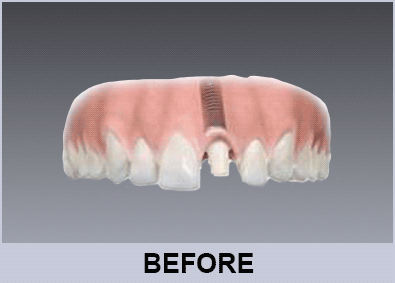 Dental implants have been used since the mid-1960s to replace teeth permanently. They look and feel like your own teeth. All dental implants have three main components: a titanium screw fixture, an abutment, and a crown that is either all ceramic or porcelain fused to precious metal.
Step 1
The first stage of this procedure involves placing the small titanium screw into your jawbone. Titanium is a highly biocompatible material and therefore integrates with the bone tissue to form a new, stable tooth root. The implant takes three to six months to fuse with the bone and form a solid structure.
Step 2
When the bone has healed around the implant, the abutment is ready to be attached to the implant fixture. This is a ceramic or titanium component that ensures a secure fit between the dental implant and the crown.
Step 3
Once the dental implant and the abutment are in place, we fit the porcelain crown up to the edge of the gum line to replicate a natural tooth. The dental implant is now complete. In most cases, it is virtually impossible to see the difference between your own natural teeth and the new implant tooth.